Oct 22, 2013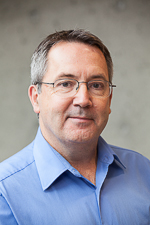 Langara College is pleased to announce the appointment of Daniel Thorpe as its new Dean of Continuing Studies. In this position, Thorpe will be responsible for providing strategic and operational leadership for the College's Continuing Studies Department.
"I am very pleased with Daniel Thorpe's appointment," said Dr. Ian Humphreys, Langara's Vice-President of Enrolment and Business Development. "Dan has been with Langara for over 15 years. He brings to the position a passion for adult education and a wealth of experience locally and provincially in Continuing Studies as both an instructor and administrator. I look forward to working closely with him."
Thorpe started working for Langara College Continuing Studies in 1998 as an instructor before joining the administrative team in early 2004. Since then, he has served in a variety of roles of increasing responsibility, including Project Coordinator of the Student Connections program, Program Coordinator of Computer Technology Programs, and Manager of the Accounting, Business, and Technology Department. In April 2012 he was appointed as Interim Dean of Continuing Studies.
Previous to his work at the College, Thorpe free-lanced as a technology consultant and trainer and served in the Canadian Army, including postings as a training officer in Calgary and Vancouver, and a tour in Bosnia.
"This is a time of particular change and challenge for education," said Thorpe, "including the introduction of new technologies, increasing fiscal restraints, and a new and very choosy generation of students. But I'm genuinely looking forward to working with the terrific team we have at Langara. Together I'm confident that Continuing Studies will continue to innovate and find new ways to successfully deliver life-long learning that meets the needs and enriches the lives of our students. I'm humbled by the challenge but grateful for this opportunity."
About Langara

Located in beautiful Vancouver, BC, Canada, Langara College provides University, Career, and Continuing Studies education to more than 21,000 students annually. With over 1,700 courses and 130 programs offered, Langara's expansive academic breadth and depth allows students of all ages, backgrounds, and life stages to choose their own educational path.
Media Contact:
Yvonne Ohara
Manager, Communications & Marketing
604.323.5014
news@langara.bc.ca