May 22, 2013
After a record-breaking season Langara's men's basketball team will be representing the College – and Canada – at the 2013 Kainan Basketball Tournament in Taipei, Taiwan.

The invitational tournament welcomes teams from all over the world to compete at Taiwan's Kainan University. It is the first trip to the competition for Langara, who have been invited following their PACWEST league record 20-1 season and a bronze medal at CCAA nationals. They will face Lithuania's Vilnius Gediminas Technical University in their first round match on May 27.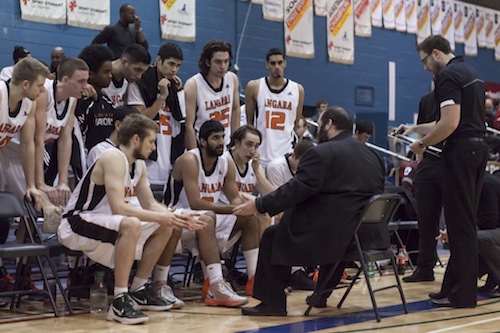 Coach Paul Eberhardt with the Langara Falcons during their CCAA Nationals match against Holland College. Photos by Thorsten Gohl.

"This is an amazing opportunity for our team to experience a different culture in an exciting part of the world," said Falcons head coach and CCAA Coach of the Year Paul Eberhardt. "We had an extremely successful year and it will be very rewarding to both continue and wrap up our season with this incredible trip."

"We are privileged to have the opportunity to participate in this event," added Ajay Patel, Langara's Dean of International Education. "Langara is located in the heart of Vancouver, where basketball is very popular. This tournament presents a wonderful opportunity not only to share our love for the sport, but to provide an unforgettable experience for our student-athletes and build long-lasting relationships with our global community."

Other competitors at the Kainan tournament include University Malaysia Sabah, National Taiwan University, Singapore Institute of Management, and the National Central University of Taiwan. The Falcons depart on May 25, and will play at least four games in addition to participating in a variety of cultural and sightseeing events.

"Taiwan will be a memorable conclusion to a remarkable season," said Devin McMurtry, one of the Falcons' star centers. "To play against international competition is an opportunity that all of us will relish."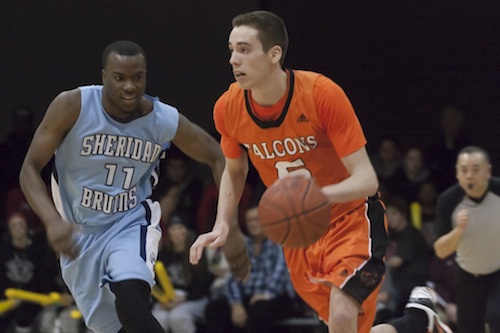 Langara point guard and CCAA All-Canadian Brody Greig powers down the court during the Falcons' bronze medal match against Sheridan College. 
Learn more:
Annie Mullins
Communications Officer
Langara College
604.323.5058
amullins@langara.bc.ca