May 9, 2013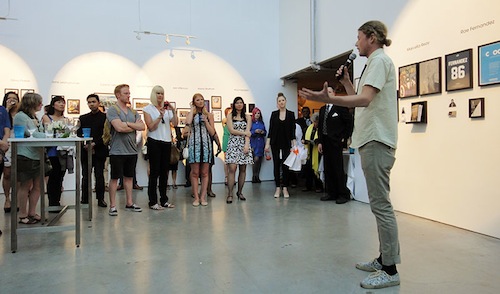 More than 150 guests attended the launch of the 25th anniversary edition of Pacific Rim Magazine on Wednesday night.
Langara Publishing students have successfully produced the 25th anniversary edition the program's flagship publication – Pacific Rim Magazine.

The annual production of the magazine is the cornerstone of the program, and features outstanding student writing, editing, and design work. On May 8 an incredible 17,000 copies were distributed through the Globe and Mail newspaper, with further issues available for purchase through the Langara Bookstore.

"I am very proud of the high quality creative work that has brought this issue into being," said Program Coordinator Darren Bernaerdt, who is proudly listed as Publisher on the magazine's masthead. "The Class of 2013 Publishing students have done a wonderful job of maintaining the magazine's reputation of engaging stories and professional production values."

The 2013 issue continues Pacific Rim Magazine's commitment to exploring the people and issues connecting Vancouver to other countries in the Pacific Rim neighbourhood. This year's cover story features Marilou Tuzon, a nanny from the Philippines, who describes the challenges and impact of leaving her family behind to make a better future for her children. The issue also includes features on a potential bike share program for Vancouver, local advocacy for an aging LGBTQ community, and Canada's first locally grown and produced sake.

The issue was launched on the evening of May 8 at Vancouver's iconic Arthur Erickson Waterfall Building.

The Publishing diploma program at Langara College teaches students to use the latest publishing tools and techniques in a collaborative environment that cultivates the professional attitudes and creativity needed to excel in a publishing career. Each year, students collaborate to design and produce Pacific Rim Magazine, a glossy, full-colour publication that is distributed in the Globe and Mail across the Lower Mainland. Read the complete issue here. Print copies are available through the Langara Bookstore.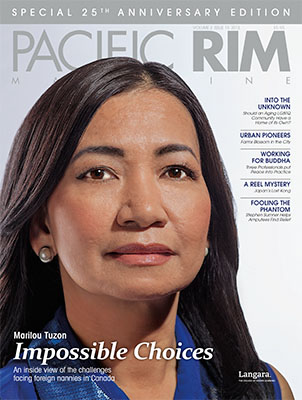 The 25th Anniversary Edition of Pacific Rim Magazine.
Learn more:
Annie Mullins
Communications Officer
Langara College
604.323.5058
amullins@langara.bc.ca