Feb 27, 2013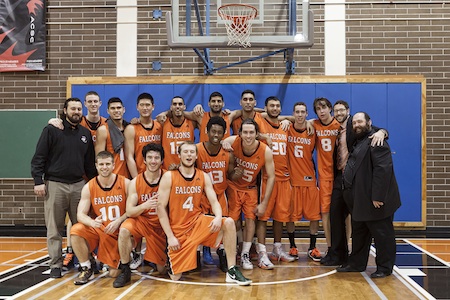 The Falcons men's basketball team head to the PACWEST provincial championships on March 1. Photo: Thorsten Gohl.

Vancouver, BC – The record-breaking Langara Falcons men's basketball team heads to the Pacific Western Athletic Association championships tomorrow with a near-perfect record.

The tournament, hosted by Camusun College on Vancouver Island, will see top-ranked Langara heading straight to the semi-finals following a record 20 and 1 season. Teams from Quest University, Camosun College, Capilano University, Douglas College, and Vancouver Island University will all vie for the title of BC's top PACWEST team. The winners will head to John Abbott College in Sainte Anne de Bellvue, Quebec, to represent BC at the 2013 national championships. 

The team celebrated this week after the announcement that star point guard Brody Greig was named as PACWEST's Men's Player of the Year, as well as being named to the PACWEST 1st Team All-Stars with guard/forward Jesse Jeffers. Third-year Grieg, who is originally from Richmond, BC, finished the season with an incredible league-high of 195 assists in 21 games. 

Coach Paul Eberhardt was also honoured this week, after being named as PACWEST's Men's Coach of the Year. The kudos were rounded out with guard Elliott Mason being named to the Men's 2nd Team All-Stars.

The Falcons men will play their first game this weekend at 8:00 pm on March 1. To screen the games live visit the PACWEST website.
Read more about Greig and Coach Eberhardt in this week's edition of student paper
The Voice
.

Learn more.
Annie Mullins
Communications Officer
Communications & Marketing
T 604.323.5058
amullins@langara.bc.ca