Jan 25, 2013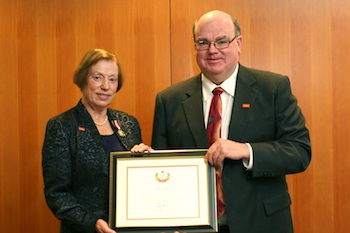 Anne Lippert receives the QEII Diamond Jubilee Medal from Langara's President Roy Daykin. Photo: Wendy Watson.

Vancouver, BC – Anne Lippert, Chair of the Langara College Board of Governors, has joined the outstanding list of recipients of the Queen Elizabeth II Diamond Jubilee Medal.

Lippert was honoured on January 24 for her exceptional contribution to the governance of Langara College, the provincial college sector, and the greater community as a whole. The medal celebrates Her Majesty Queen Elizabeth II's Diamond Jubilee and honours outstanding Canadians for their contribution or distinguished service to their fellow citizens, community, and country.
"I am humbled by this award," said Lippert. "The nomination by Langara means so much to me. It's an honour to be part of such a progressive and dynamic organization that is committed to accessible education for all learners."
Lippert was appointed to the Langara board in 2008, elected as Vice-Chair in 2010, and made Board Chair in 2012.  In addition to her role as Chair Lippert represents the College as a member of the BC Colleges Board Chairs Committee and the Langara Students' Union Trust Board. She is also a past member of the Post-Secondary Employers' Association's Members' Board Compensation Committee. Langara's President and CEO Roy Daykin presented the medal to Lippert at a ceremony held at the College on Thursday.
"We are privileged to have Anne on our Board," said Daykin. "Her dedication and leadership has helped Langara build on its reputation as one of BC's leading undergraduate institutions. We are delighted that she has been honoured with such a prestigious award." 
On a College community level, Anne is recognized by her work in establishing the College's partnership with the C.A.R.E. Society, in establishing a link between an external Community Rotary program and the College, and by her numerous fundraising activities for the arts, health, and educational institutions.
The medal QEII Diamond Jubilee Medal was developed by the Canadian Heraldic Authority and approved by Her Majesty the Queen. It was created last year by the Governor General of Canada to mark the 60th anniversary of Her Majesty Queen Elizabeth's accession to the Throne as Queen of Canada.

About Langara
Langara College, located in beautiful Vancouver, BC, Canada, provides University, Career, and Continuing Studies programs and courses to more than 23,000 students annually. The College's expansive academic breadth and depth allow students to choose their own educational path.
Learn more.
Yvonne Ohara
Manager, Communications & Marketing
T 604.323.5014
news@langara.bc.ca