Jan 18, 2013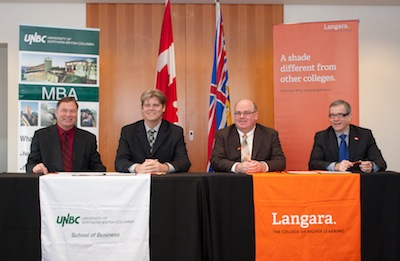 From left: Dr. Raymond Cox, Dan Ryan, Roy Daykin, and Dr, Bradley O'Hara sign the MOU at Langara college. Photo: Jennifer Oehler.

Vancouver, BC –  Langara is pleased to announce the signing of a Memorandum of Understanding (MOU) with the University of Northern British Columbia (UNBC).

The agreement, signed on Friday, sets out the details of a collaboration between the institutions that will see spaces in UNBC's Master of Business Administration degree program opened at Langara's Vancouver campus. The MOU was signed by Langara's Vice-President Academic and Provost Dr. Bradley O'Hara, the College's Interim President Roy Daykin, the Dean of UNBC's College of Science and Management Dan Ryan, and the Director of UNBC's School of Business Dr. Raymond Cox.

"This unique partnership extends one of Langara's strategic priorities - to provide opportunities for learners," said O'Hara. "As the opportunity to host a high demand, high quality graduate program on our campus does much to support working professionals in the Lower Mainland, we're excited and honoured to serve as the Vancouver venue for UNBC's MBA program."

The UNBC MBA program covers the broad spectrum of topics and issues comprising a Master of Business Administration degree, while paying special attention to the political, social and economic issues of the North, in Canada and in the greater global context. All instruction in the program will be delivered by UNBC faculty, but students will be able to complete the program without leaving Vancouver. The program, which is oriented towards working professionals, will take its first cohort at Langara this fall. In addition to two one-week residencies, students will attend classes one weekend each month in three-day, and sometimes four-day, sessions during the nineteen-month program.

"UNBC is excited to be offering our MBA in Vancouver starting this August at Langara," said Dr. Cox. "Bringing this program to the Lower Mainland will create attractive opportunities for our MBA students, and build strong connections between our campus in Prince George and Langara's in Vancouver."

An information session for students interested in the program will be held at 6:30 pm on January 31 in Room 207 of Langara's Library in Vancouver.

To learn more about the MBA program contact Dr. Raymond Cox at rcox@unbc.ca.

About Langara
Langara College, located in beautiful Vancouver, BC, Canada, provides University, Career, and Continuing Studies programs and courses to more than 23,000 students annually. The College's expansive academic breadth and depth allow students to choose their own educational path.
Learn more.
Annie Mullins
Communications Officer
Communications & Marketing
T 604.323.5058
amullins@langara.bc.ca