Jan 10, 2013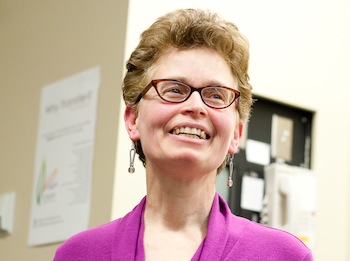 Olivia Fermi presents to Langara's Multimedia and Animation class. Photo: Jennifer Oehler.

Vancouver, BC – Students in Langara's Computer Science program are collaborating with Olivia Fermi, granddaughter of Nobel Laureate Enrico Fermi and trailblazing environmentalist Laura Fermi, on her quest to explore the conflicts and dilemmas of the nuclear age.

The Neutron Trail project sets out to examine the complicated "nuclear legacy" inherited by the global community in the wake of 20th century scientific developments – something Olivia has called "a pressure cooker of contradictions". The project began as a personal inquiry, exploring her grandparents' legacy within the larger scope of history, and has since expanded to include a broader examination of our collective relationship with nuclear energy, weapons, and waste.

The Multimedia and Animation class in Langara's Computer Science Program, under instructor Catherine Levinson, is exploring a variety of tools to illustrate and illuminate the concepts and contradictions Fermi discusses in her exploration of the Neutron Trail. To begin the collaboration Olivia spoke to the class on January 9 about her grandparents' contributions and discussed a variety of dilemmas she's encountered as she explores the Neutron Trail.

"I'm delighted to be collaborating with the students at Langara for this course," she said. "The Neutron Trail is dynamic and conversational, and open to interaction on many levels. So I'm seeing this as a wonderful opportunity to learn from each other in a cross-generational dialogue."

Fermi has visited a wealth of people and places affected by our shared nuclear legacy, including: the Fermi National Accelerator Laboratory (Fermilab) in Chicago, USA; the European Organization for Nuclear Research (CERN) in Geneva, Switzerland; and the Trinity Site in New Mexico, USA, where the first atomic bomb was tested. She has also delivered a TEDx talk in Rome, Italy – her grandfather's birthplace.

Enrico Fermi won the Nobel Prize in Physics (1938) for his work on induced radioactivity, and is particularly known for his work on the first self-sustaining nuclear chain reaction in 1942 (Chicago Pile-1). His work was later folded into the Manhatten Project, which produced the first atomic bomb.

Laura Fermi wrote several books including Atoms in the Family: My Life with Enrico Fermi. She was also a pioneering environmental activist, and the founder of the first handgun control lobby in America.
Learn more.
Annie Mullins
Communications Officer
Communications & Marketing
T 604.323.5058
amullins@langara.bc.ca