Jan 7, 2013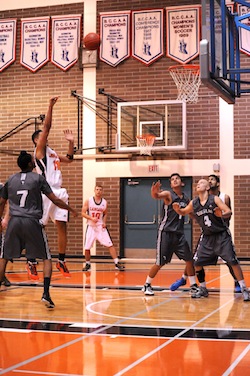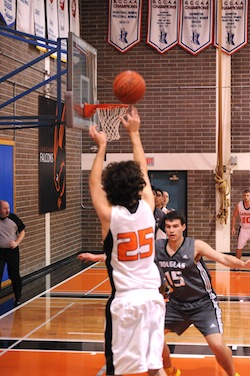 Falcons Jitinder Lohcham (left) and Jesse Jeffers (right) add to the Langara lead against Douglas. Photos: Tomo Tanaka

Vancouver, BC – The Langara Falcons men's basketball team started off 2013 with a bang – racking up their 9th consecutive win against the Douglas College Royals.

The undefeated team of student-athletes, who are now ranked #1 nationally by the Canadian Collegiate Athletic Association (CCAA), flew to an astonishing 90 to 37 win during Friday night's home game. The team's tight defence held the Royals to less than 11 points in each quarter, while the intensity of the offence saw the Falcons rack up basket after basket consistently throughout the game.

"We really put the pressure on defensively, dominating the defensive glass which helped our transition game." said Head Coach Paul Eberhardt. "I wasn't 100 per cent sure how we would play after being off for so long, but overall I am pleased with the effort and intensity we showed – especially at the defensive end."

Center Jitinder Lohcham (#11) was especially strong on the boards as he pulled down a season high 12 rebounds, to go along with 15 points and five blocked shots. Also scoring in the double digits were guard Daniel Hobden (#10) with 14 points, forward Garrett Ling-Lee (#7) and guard Matt Madewan (#20) with 11 each, and guard/forward Jesse Jeffers (#25) with 10.

The Falcons remain in first place in the Pacific Western Athletic Association (PACWEST), as well as being ranked #1 in Canada by the CCAA. The team travels to Vancouver Island this coming weekend to take on the Camosun Chargers, and the #2-ranked Vancouver Island University Mariners.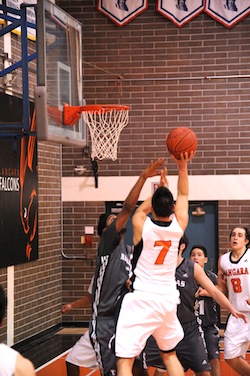 Forward Garrett Ling-Lee takes it to the hoop. Photo: Tomo Tanaka.
Learn more.
Annie Mullins
Communications Officer
Communications & Marketing
T 604.323.5058
amullins@langara.bc.ca