Nov 30, 2012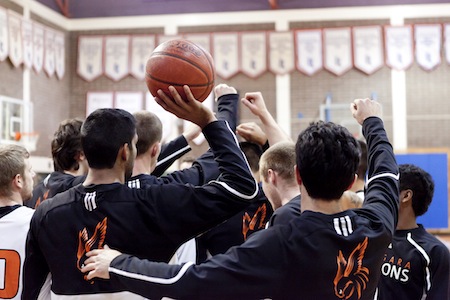 Langara's men's basketball team was ranked first in Canada this week. Photo: Thorsten Gohl.

Article from The Sports Wire 
Vancouver, BC – Not since the late 90′s has the Langara Falcons men's basketball team sat atop the CCAA rankings. This week the Falcons, with a unblemished 6-0 record, officially took over top spot from the Red Deer College Kings in the standings.  
With a convincing 89-78 victory over the Douglas College Royals, Langara has kicked off Coach Paul Eberhardt's first year as Falcons bench boss without fault. Installing his traditional run and gun style, one which has brought success in his previous coaching stints with the Capilano Blues, Palmer Griffins, and McNair Marlins, Eberhardt has the young birds' offense soaring. Yet, despite their ability to put the ball in the basket, Eberhardt knows that they can improve their work on the defensive end of the court.
After starting the 2012-13 year with three losses in their exhibition season (UBC-O, UFV, and Portland Bible College) the Falcons opened their regular season with a 32-point home court victory over the Royals, and have not looked back since.
While Elliot Mason and Jesse Jeffers are often the team's leading scorers, the Falcons offense does not skip a beat if either of those two happen to have an off night, with Brody Greig and Matt Madewan stepping up to fill the void on the scoresheet as part of the starting five.

Remove any of the above names from the lineup and the Falcons hardly miss a beat with Jeff Chu and Glen Ruby filling in the back court spots, while Devin McMurty, Ranjodh Hare, Jitinder Lohcham, and Garrett Ling-Lee take turns rotating between a starting role and second unit big men.
Starting the season ranked fourth overall and quickly progressing up the ranks as the weeks pass by, the Falcons on-court talent has the ability to carry the team deep into the playoff season, but it is the off-court bond that will be the key to helping get the team over the hump to hoist the banner at the end of the season. With only one freshman on the roster the Falcons have a deep and experienced team, one which extends past their time on the West 49th campus. Six players grew up together in Richmond, with Greig and Chu running courts together almost forever, while three come from Eberhardt's successful Palmer program. Nine of the 14 players on the roster have put in two years of work in order to see the success that the team has currently achieved.
While a first place ranking at the end of November is an honour, rest assured that the Falcons are not content, and you can bet the house that Eberhardt will not let them relax. If they do, there is a good chance that no matter where you are, you will hear the exuberant coach reminding them of what they are capable of.

By Steve Lee
Learn more.
Annie Mullins
Communications Officer
Communications & Marketing
T 604.323.5058
amullins@langara.bc.ca