Nov 30, 2012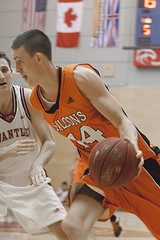 Elliott Mason was named as a PACWEST Athlete of the Week this week. Photo: Thorsten Gohl.
Vancouver, BC – Langara Falcon Elliott Mason was named as a Pacific Western Athletic Association (PACWEST) Athlete of the Week after a phenomenal start to the season.

The 6'6" guard, who originally from Richmond, BC, is in his third season playing with the Falcons and has developed into a great shooter both in the half-court and in transition. Elliott has proved to be a key offensive contributor this year, helping lead his team on their current six-game undefeated streak.

Mason, who was named to the PACWEST All-Rookie team in 2011, was a leading scorer in Langara's Friday game against the Douglas Royals, scoring 21 points including nine from the three-point line. He also scored six rebounds and three steals to help take the Falcons to a 89-78 win.
Learn more.
Annie Mullins
Communications Officer
Communications & Marketing
T 604.323.5058
amullins@langara.bc.ca