Sep 11, 2012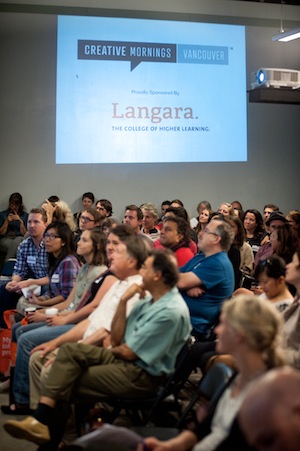 The crowd at this month's Creative Mornings. Photo: Mathew Smith

Vancouver, BC – More than 150 creative minds converged in Vancouver's W2 Media Cafe on Friday for the latest installment of Creative Mornings, sponsored by Langara.

There was a buzzing atmosphere at the free lecture event as this month's speaker, award-winning dancer and choreographer Crystal Pite, shared her vision of creativity with the packed room. Pite also shared clips of her acclaimed work with several international dance troupes. After her presentation the crowd was invited to discuss their own ideas of art, design, and creation in response to her work, before being invited to ask questions directly to Pite herself.

"Creative mornings always feeds me that jolt of inspiration," said attendee Sylvia Tan. "Crystal's talk today was amazing - she was so gracefully articulate about the passion and process behind her choreography. She left us mesmerized by her artistry and wanting to dance."
Creative Mornings is a monthly breakfast lecture series for people interested in creative industries. The free event began in New York city but now counts chapters in Zurich, London, Berlin, Stockholm, Auckland, Milan, and Budapest among its ranks. Speakers who have appeared at the Vancouver section include Flickr co-founder Stewart Butterfield, communications and cultural strategist Amanda Gibbs, and Juno Award-winning musician Bif Naked. Each event is free of charge and includes a 20-minute presentation, plus coffee.

The September installment of Vancouver's Creative Mornings was sponsored by Langara's Communication Arts and Digital Media programs, which offer courses in graphic design, art direction, and advertising, amongst other subjects. This is the third time that Langara's programs have sponsored Creative Mornings, an event that Program Coordinator Johnathon Strebly sees as an opportunity to expand the creative horizons of Vancouver.

"Creative Mornings is an opportunity for individuals from all aspects of the creative industry to gather, to experience an inspiring and provocative presentation, and then to exchange ideas in an electric environment," said Strebly, who has been involved in Creative Mornings since its inception. "I'm delighted to be a part of the event, and I'm thrilled to be able to facilitate this opportunity for others."

Crystal Pite has collaborated with dance artists and theatre companies across Canada, Europe, and the United States. Pite will discuss her work with the celebrated performance group Kidd Pivot, which she founded in 2002. The boundary-pushing ensemble tours extensively around the world, most recently with Pite's work The Tempest Replica, which explored themes inspired by the seminal Shakespearean work it takes its title from.

The next installment of Creative Mornings will be held on Friday, October 5, featuring famed Vancouver restauranteur Vikram Vij. For more information, or to view videos of previous Creative Mornings events, visit www.creativemornings.com.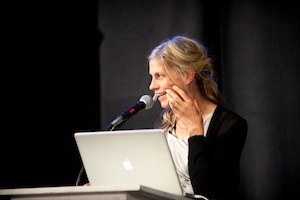 Choreographer Crystal Pite speaks to Vancouver's Creative Mornings crowd.

Learn more.
Annie Mullins
Communications Officer
Communications & Marketing Services
T 604 323 5058
F 604 323 5680
amullins@langara.bc.ca