Jun 28, 2012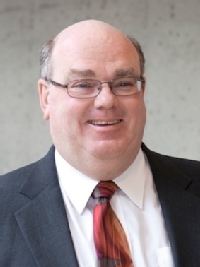 Roy Daykin is Langara's new Vice-President, Administration and Finance, and Chief Financial Officer.
Vancouver, BC – Langara College has announced the appointment of Roy Daykin as its new Vice-President, Administration and Finance, and Chief Financial Officer. In this position, Mr. Daykin will be responsible for providing institutional leadership for a portfolio that includes finance, facilities, and technology.  
"Over the past two years, Roy has played an increasingly important role in the operations of the College. He is a steady but driving force in Langara's efforts to meet its strategic vision," said Langara College President Dr. David Ross. "It's a pleasure to recognize the leadership that Roy has provided and I look forward to the contributions Roy will continue to make in his new role."  
Mr. Daykin has over 27 years of experience in the post-secondary sector.  He joined Langara College in 2010 as the Associate Vice-President, Administration and Finance. Previous to his work with Langara, he was the Secretary Treasurer of the Mission Public Schools, the Associate Vice-President of Finance for Kwantlen Polytechnic University, and the Director of Finance for Douglas College.  
"I am humbled by the support I have received and very excited to be taking on this expanded role," said Mr. Daykin. "I am looking forward to working with the entire Langara community as the College moves from strength to strength to solidify its position as BC's leading undergraduate institution."  
Mr. Daykin is a Certified General Accountant and holds a Masters of Arts in Leadership and Training from Royal Roads University.  
About Langara
Langara College, located in beautiful Vancouver, BC, Canada, provides University, Career, and Continuing Studies programs and courses to more than 23,000 students annually. The College's expansive academic breadth and depth allows students to choose their own educational path. The College offers four bachelor's degrees as well as a comprehensive variety of diplomas, certificates, and citations.
Learn more.
Yvonne Ohara
Manager, Communications and Marketing Services
Langara College
604-323-5014
news@langara.bc.ca