Jun 12, 2012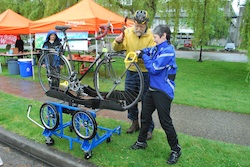 The Langara College Bike to Work Week commuter station.
Vancouver, BC
– Langara staff braved downpours for five days to cycle more than 1000 kilometres during the Metro Vancouver Bike to Work Week this year. The efforts made by our dedicated team of eco-conscious College cyclists saved hundreds of kilograms of CO
2
emissions between May 28 and June 1.
The event, held annually since 2007, encourages individuals and teams to bike to work in a bid to promote healthy living and environmental awareness. Every year thousands of commuters from the Metro Vancouver area saddle up on their bicycles to join in the challenge.  
This year, as we did in 2011, Langara hosted a commuter station manned by volunteers  to the east of campus on Ontario Street to provide breakfast refreshments and coffee to participating cyclists. The VanCycle Mobile Bike Shop also kindly provided mechanical bike services.   
"Despite the rain, the number of visitors stopping at the Langara College Commuter Station was up by over 50 per cent this year from last year," said Fulton Tom, an economics instructor at the College who organized the event. "It was great being greeted by smiling visitors who were appreciative of the refreshments at the commuter station, and to hear their commute stories."  
Region-wide, more than 900 people cycled to work for their first time during Bike to Work Week.
About Langara
Langara College, located in beautiful Vancouver, BC, Canada, provides University, Career, and Continuing Studies programs and courses to more than 23,000 students annually. The College's expansive academic breadth and depth allow students to choose their own educational path.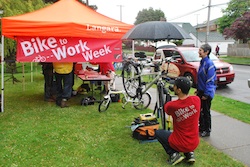 Learn more.
Annie Mullins
Communications Officer
Langara College
604-323-5058
amullins@langara.bc.ca