May 29, 2012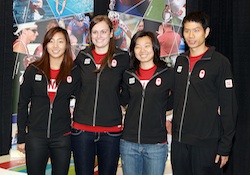 Tobias Ng (far right) with Olympic Team colleagues Michelle Li, Grace Gao, and Alexandra Bruce. COC photo by Sue Wong.

Vancouver, BC – Former Langara student-athlete Tobias Ng will be playing badminton for Canada at the London Olympics this summer, the Canadian Olympic Team has announced. He will be representing the nation at the Summer Games as one half of the mixed doubles pair, alongside Calgary's Grace Gao.

Ng, originally from Vancouver, attended Langara to study Human Kinetics from 2005 to 2007 before transferring to UBC. He was a star of the Falcons Badminton squad, being named to the 1st BCCAA All-Star team in 2006, and winning Langara Male Athlete of the Year in 2007.  

Ng is one of four Canadians who will be competing in badminton at the London Games in two months time.  

"This is a very big honour, to represent Canada at the Olympic Games," said Ng, in a report issued by the Canadian Olympic Team. "We're going to take everything we've worked on and practiced and bring it all together in London."  

Ng and Gao took home mixed doubles gold at the Canadian Nationals in February and won the XVII Peru International 2012 in April, held by the World Badminton Federation in Lima. The pair also took home the gold from the 2011 Pan American Games, held in Guadalajara, Mexico, after coming back from a deficit to win a challenging third game – a moment Ng lists on the Badminton Canada website as one of the biggest in his career.  

"We are very fortunate to have had some tremendously talented student-athletes compete for Langara over the years, and Toby is a terrific example," said Jake McCallum, Langara's Director of Athletics and Intramurals. "We are extremely proud to have been a part of Toby's progression towards qualifying for the Olympic Games in 2012."  

Joining Ng and Gao on Canada's Olympic Badminton team are Alexandra Bruce from Toronto and Michelle Li from Markham, Ontario.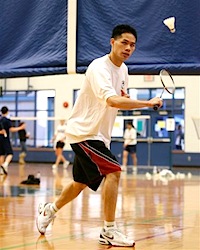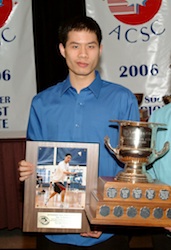 Left: Olympian Tobias Ng as a Langara Falcon in 2007.
Right: Receiving his Athlete of the Year Award in 2007.

Learn more.
Annie Mullins
Communications Officer
Langara College
604-323-5058
amullins@langara.bc.ca