Apr 24, 2012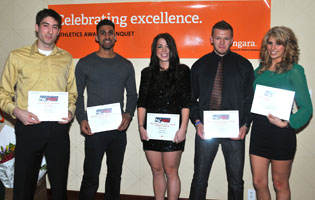 Langara Falcons award winners (left to right) Luke Couture, Gurjote Jhaj, Lana Rockhill, Brett Wiens, and Loren Lidin. Photo: Robert Loitz
Vancouver, BC –The Langara Falcons sports teams gathered on April 23rd at a gala banquet held to acknowledge outstanding athletic achievement. The event – the 42nd Annual Athletics Awards Banquet – recognized a variety of talented badminton, soccer, and basketball players who excelled during the 2011/2012 sports season.  
The Falcons, along with their coaching staff and members of the College executive, celebrated a banner year of individual and team successes that included two athletes being named as CCAA All-Canadians.  
Awards announced during the evening included:  
Freshman Female Athlete of the Year – Danae Harding, women's soccer
Freshman Male Athlete of the Year – Ranjodh Hare, men's basketball
All-Round Women's Athlete of the Year – Alisa Young, badminton
All- Round Men's Athlete of the Year – Luke Couture, badminton
Outstanding Female Athlete of the Year – Lana Rockhill, women's soccer
Outstanding Male Athlete of the Year – Gurjote Jhaj, men's basketball
Sean Murphy Memorial Soccer Award – Mynor Campos Jr., men's soccer  
Senior Achievement Awards were also announced for women's basketball star Carling Muir, a former All-Canadian who has led Langara's women's basketball team for four seasons, and Loren Lidin, goalkeeper for the women's soccer team who was named as CCAA Player of the Year in 2009.  
"It was a great evening and it's always nice to get together to celebrate the past year and take the opportunity to recognize the hard work and commitment of all our athletes and coaches," said Athletics Director and men's basketball Head Coach Jake McCallum. "We once again had tremendous individual and team success due to the efforts and devotion of the student-athletes and coaches."  
Langara faculty member Gail Bremer, who was herself a student-athlete at the College more than 30 years ago, was honoured with the Andre Tee Outstanding Service Award at the banquet. Gail, a teacher in Langara's Nursing Department, was recognized for generously volunteering her time at three provincial and two national athletics events to support the Falcons.    
"We are very fortunate to have tremendous support for our Athletics Program here at the College," added McCallum. "To have the encouragement of people like Gail is an incredible gift, and we cannot thank her enough."

Highlights of the 2011/2012 season included:
Women's soccer star Lana Rockhill and men's basketball player Gurjote Jhaj named as CCAA All-Canadians
Badminton coach Marc Petreman named as a CCAA Coach of the Year
10 members of Falcons sports teams named as PACWEST All-Stars
Badminton Player Luke Couture named as a CCAA Academic All-Canadian
8 Falcons named as PACWEST Players of the Week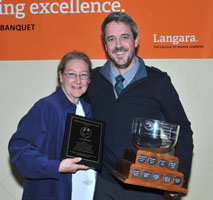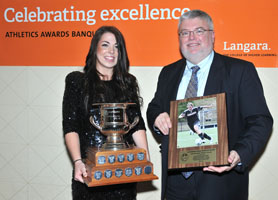 Left: Andre Tee Outstanding Service Award winner Gail Bremer with Athletics Director Jake McCallum
Right: Outstanding Female Athlete of the Year winner Lana Rockhill with Langara College President Dr. David Ross
Photos: Robert Loitz


Learn more.
Annie Mullins
Communications Officer
Communications & Marketing Services
T 604 323 5058
amullins@langara.bc.ca