Feb 22, 2012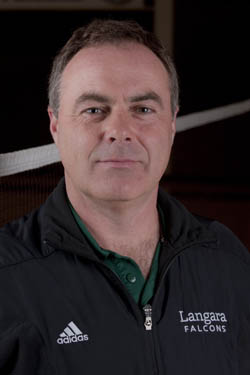 Langara Falcons Badminton Coach Marc Petreman

Vancouver, BC – Langara Falcons' badminton coach Marc Petreman was named as a PACWEST Coach of the Year this weekend. The announcement followed Langara's bronze medal finish at the badminton provincials, held at Thompson Rivers University in Kamloops.  
Langara's Director of Athletics Jake McCallum praised Petreman for his outstanding work this season. "Marc has done an exceptional job this year and it's great that he has been recognized by his peers as the coach of the year," he said. "We are very proud of Marc and his coaching staff. They put in countless hours with the student athletes and it shows."  
"This is totally an honour," said Petreman. "We had some really strong players this year and they improved quite a bit. I'm very happy to receive the award. It caught me totally off guard, but I guess they liked the way the team improved this year."
The Falcons Badminton squad celebrated good results all season, with one silver and three bronze place finishes for the team over four tournaments. Star player Luke Couture also took home the gold in the men's singles event at the provincials this weekend, and Alisa Young won the silver in the women's. Both Luke and Alisa will now represent Team BC at the Canadian Collegiate Athletic Association (CCAA) National Badminton Championships from March 1st to 3rd, which will be held at the Tournament Capital Centre in Kamloops.

Learn more.
Annie Mullins
Communications Officer
Communications & Marketing Services
T 604 323 5058
amullins@langara.bc.ca