Oct 19, 2011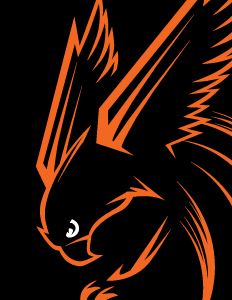 October 19th, Vancouver, BC – The championship-winning sports teams at Langara College have a new emblem to usher in their 2011/2012 seasons. The regenerated "falcon in flight" is set to be emblazoned across the jerseys of the men's and women's soccer, basketball, and badminton teams as play begins this fall.
The logo, a fierce orange, black, and white falcon pictured in descent, embodies the spirit of determination and skill exemplified by Langara's athletic squads. It will be proudly worn by stars such as Falcons' goalkeeper Loren Lidin, who led the women's soccer team to the CCAA Championship in 2009. Liden, from Port Moody, BC, was also named women's soccer player of the year that season.
In the spirit of competition the new logo was developed through a design contest that invited students and members of the community alike to submit their ideas. After careful consideration by a judging committee comprised of current players, faculty, and past and present Langara coaches, two winners were selected. The winning images, from Langara Arts and Science transfer student Kyla McWilliam and Joe Donnelly, were merged together to create the final design.
Miss McWilliam said she was "thrilled" to be chosen as a winner in the logo contest, and described her design as: "meant to embody Langara's mantra of valuing leadership, teamwork, and competition." She added: "The falcon in flight displays many qualities of a strong leader, such as strength, confidence, and a demand for respect. It's an honour to have my artwork represent the college."

Langara's men's and women's soccer teams have been sporting the logo since the beginning of their season in September, but the official launch comes just in time for the Falcons' men's and women's basketball home opener games on November 26th. All teams hope to continue the success they've had in recent years, and to build towards potential championship titles for 2012.
Men's basketball head coach Jake McCallum said the new logo "represents the next chapter for the Falcons." He added, "There have been logo changes in the past, but nothing as significant as this. I think it instills a sense of excitement in our teams and fans. They have embraced the change and we are proud to wear the new logo and colours."
Media Contact:
Annie Mullins
Communications Officer
Communications & Marketing Services
T 604 323 5058
F 604 323 5680
amullins@langara.bc.ca