Oct 5, 2011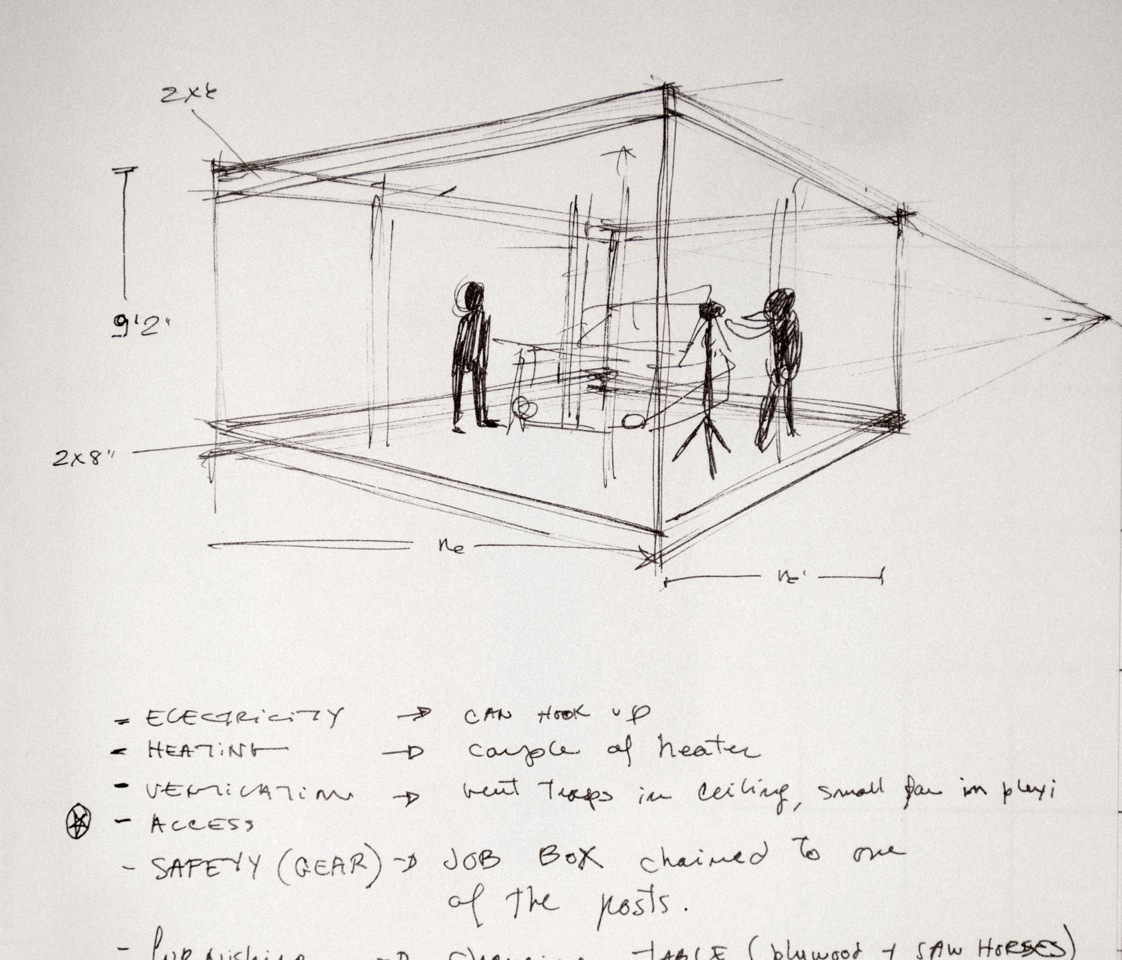 Vancouver, October 5, 2011 – Samuel Roy-Bois, a Vancouver-based artist, has been selected as Langara's newest Artist-in-Residence. Focusing on architecture, uniquely constructed spaces, and large-scale installations, Samuel brings a wealth of creativity to the campus and an ability to engage the community with his work. His exhibitions have been showcased across Canada and internationally.
From September 2011 to April 2012, Samuel will be designing and building a public art project titled Nothing blank forever. This "makeshift movie studio" will be constructed in the Quadrangle (outside the Langara Students' Union), which will serve as the project's heart and home. The temporary studio will take on many roles in the next eight months including a movie set, recording studio, lecture room, gallery space, art studio, and theatre. The activities in the multi-purpose space will be linked by the project's objective - to facilitate creative collaboration and exchange.
"We are thrilled to have Samuel Roy-Bois join us as Langara's third Artist-in-Residence," says Tomo Tanaka, Creative Arts Division Chair and Langara College's Centre for Art in Public Spaces Chair. "His unique vision to host all these activities within a 4.8 x 4.8 metre space and to weave them together in a film is intriguing. It will be exciting to watch the project evolve, and more importantly, to see students take part in it."
The Artist-in-Residence program is a key component of Langara College's Centre for Art in Public Spaces (LCCAPS). LCCAPS is an initiative designed to inspire collaboration among students, professional artists, and the community. The integration of visiting professionals, collaborative exploration, and learning opportunities makes the program unique in Canada. For updates on Nothing blank forever and Langara's free public art lecture series, click here.
About Saumel Roy-Bois
Originally from Quebec City, Samuel currently resides in Vancouver. He acquired his BFA from Université Laval and a Masters Degree in Fine Arts from Concordia University in Montréal. His solo exhibitions include Polarizer, Southern Alberta Art Gallery, 2009; Let us, then, be up and doing..., Contemporary Art Gallery, Vancouver, 2008; Divertissements, Point éphémère, Paris, 2007; Improbable and ridiculous, Musée d'art contemporain de Montréal, 2006; and J'ai entendu un bruit, je me suis sauvé, Or Gallery, Vancouver, 2003. For more information, visit www.samuelroybois.com
About Langara College
Langara College, located in beautiful Vancouver, BC, Canada, provides University, Career, and Continuing Studies programs and courses to more than 20,000 students annually. The College's expansive academic breadth and depth allows students to choose their own educational path.
Media contact
Yvonne Ohara
Manager, Communications & Marketing
Langara College
604.323.5014
yohara@langara.bc.ca