Sep 23, 2011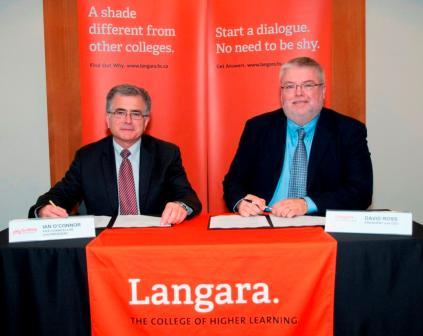 (L-R) Professor Ian O'Connor, Vice-Chancellor & President, Griffith University and Dr. David Ross, President & CEO, Langara College
Vancouver, BC, September 23, 2011 – Langara College is pleased to announce the signing of a Memorandum of Understanding (MOU) with Australia's Griffith University. The MOU paves the way for Langara graduates to pursue a range of related bachelors' and masters' degrees at Griffith University.
"We are pleased to be able to partner with Griffith University, which is considered one of Australia's most innovative and influential institutions," says Dr. David Ross, Langara College President and CEO. "This agreement is the first step in developing new opportunities for our students, graduates, and the Langara community."
Under the terms of the agreement, graduates of certain Langara programs will be eligible for admission to Griffith University with full block-transfer credit provided all other entrance criteria such as grade point average and admission requirements are met. Students will also have access to a limited number of full-fee scholarships through Griffith University.
"The landscape of higher education is changing and in Langara College, we recognize similar desires to diversify classroom opportunities," says Professor Ian O'Connor, Griffith University Vice-Chancellor and President. "We are impressed by the quality of learning at Langara and look forward to establishing academic exchanges that create further opportunities for collaboration."
At the institutional level, the partnership agreement supports several aspects of Langara's strategic plan, including developing and diversifying opportunities for learners and enhancing the College's international reputation.
Established in 1975, Griffith University is Australia's ninth largest higher education provider. With multiple campuses throughout Queensland, the university is home to more than 43,000 students from 131 countries and offers over 300 degrees.

Learn more.


Mark Dawson
Manager, Communications and Marketing
Langara College
604.323.5702
mdawson@langara.ca