Aug 3, 2011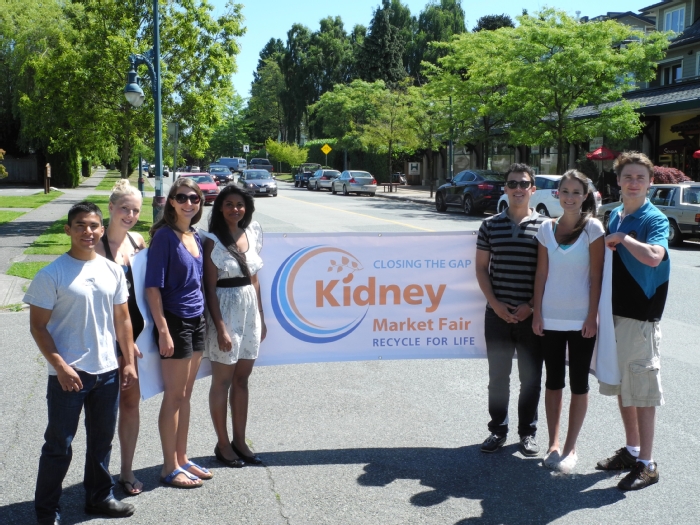 (L-R) Scott Haig, Alannah Davis, Lauren Jackie, Shiva Reddy, Michal Martinka, Alexandra Moore, and Billy Regan of the Kidney Foundation.

Summer can mean many things to students.  For Langara biology student Scott Haig, it means making a difference through his work with the Kidney Foundation.  He is spearheading the non-profit's Kidney Market Fair community event being held on Saturday, August 13, 2011, from 11:00 am to 4:00 pm at Shannon Station at 57th Avenue and West Boulevard in Kerrisdale.

The foundation is close to his heart as his close friend had a kidney transplant many years ago.  Haig approached the Kidney Foundation right before the end of Spring semester and asked if he could volunteer full-time. They agreed, and he immediately jumped at the chance to revamp the Kidney Foundation Garage Sale event.

"I have been inspired do something special to help promote the importance of organ donation in BC, especially Vancouver," explained Haig, Kidney Market Fair Coordinator. "Although the garage sale idea was great, the new Market Fair event combines both families, local businesses, and student participation."
"People still think a driver's license is enough, but that system no longer exists," added Haig. "Eighty five percent of British Columbians surveyed are in favour of organ donation, yet only 17 per cent are actually registered to be organ donors. We encourage all ages to come out, have fun, and support our great cause to 'close the gap' and increase that percentage."
The Kidney Market Fair features:
Musical performances
Children's entertainment (e.g. face painter, bouncy castle)
Neighourhood businesses, such as The Haebler Group, Karin Smith, Courtney Boutique, Coast Eco Timber, and Urban Toes
Food tasting by Senova, Choices, and Stock Up
Silent auction, featuring autographed Vancouver Canucks items
Garage sale
Langara will have a tent set up at the Market Fair. We hope to see many of you there!
For more information about the Kidney Market Fair, please contact Scott Haig at haig.scott@hotmail.com.