Nov 19, 2010
Two Langara athletes were recognized as Athletes of the Week by BC College's Athletic Association (BCCAA): Carling Muir, women's basketball player and Pierre Tang, Badminton player. They were both featured on BCCAA's website with a recap of her successes last week:
Carling Muir, Women's Basketball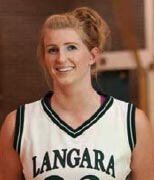 Muir is a fourth year forward for Langara. A native of Maple Ridge, this 6'1 Falcon had a very good weekend versus the visiting Timberwolves from Prince George.
In Friday's 66-63 victory over the visiting UNBC squad, Muir played 37 minutes and scored 15 points, grabbed 19 rebounds and had 3 blocked shots. In Saturday's rematch, Langara again won the game 58-50 over the Timberwolves. Muir would play all 40 minutes and was equally impressive with 18 points, 15 rebounds, and 4 blocked shots. All of this accomplished with UNBC guarding her tough with double and triple teams on every catch.
"Carling had strong games at both ends of the floor, and has been a source of inspiration for us all year long," adds coach Evans.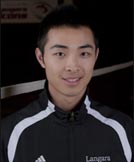 Pierre Tang, Badminton
In his first year with the Falcons, Pierre Tang is a 2nd year Human Kinetics Student. A former U19 and U16 BC Provincial Doubles Champion, Tang brings outstanding experience to the 2010/2011 Langara Badminton Team. His skill base is exceptional with great vision on the court.
This past weekend, Tang was the only male to achieve 1st and 2nd place standings in his individual events. Having placed 2nd at the 1st BCCAA league tournament in October, Tang and doubles partner Chris Chung were determined to claim victory in the Men's doubles individual event this past weekend at TRU. In the preliminary round, Tang and his partner beat teams from VIU and Capilano. In the Semi-finals, they beat one of the top doubles pairs from TRU (Babichuk and Perkins) in two straight sets (21-9,21-15) and advanced to the finals. From there they met Kwantlen's top duo Ly and Wu where they were down the first set but with determination they claimed 1st place in 3 hard fought sets (14-21,21-19,21-17).
Pierre also earned a well deserved 2nd place finish in the men's singles event. In the preliminaries, Tang beat Woods from TRU in 2 straight sets (21-9, 21-18) and Li from Kwantlen in 3 sets (21-9,12-21,21-18). It was in the semi-finals where he stepped up his game and faced 2nd seed Luo from Douglas beating him convincingly in two sets (21-18,21-10). Heading into the finals Tang knew that 1st seed opponent from Capilano, Huang, was not going to easy. Giving all his best, Tang lost in two sets (12-21, 15-21).
Tang not only is an asset but he brings charisma and leadership to his team. He is one of the top players in the league and is a strong contender for the upcoming CCAA Nationals in New Brunswick.
Learn more.