Sep 3, 2010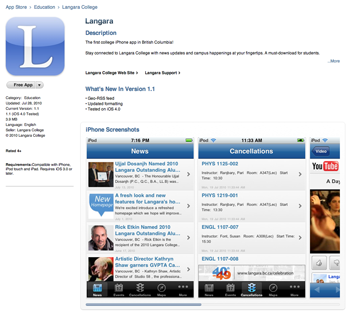 Vancouver, BC - Langara College has released an iPhone app, offering timely updates and campus happenings to students, faculty, staff, and the community. Langara leads the way for colleges in British Columbia with the first iPhone app release.
"Students are digital consumers who are looking for more ways to access information at their fingertips," said Ian Humphreys, Director of Communications and Marketing, Langara College. "We're excited to jump on board early to launch the Langara app and to connect with students in this social space."
Langara's active social media presence is already connecting thousands of people via Facebook, Twitter, Flickr, and YouTube. With the popularity of these communication networks coupled with full Wi-Fi accessibility on campus, the iPhone app should be well received.
From news and resources to photos and videos, the app provides media-rich content for iPhone, iPod Touch, and iPad users anytime, anywhere. It is available for download at the Apple iTunes App Store for free.
Langara College, located in beautiful Vancouver, BC, Canada, provides University, Career, and Continuing Studies programs and courses to more than 20,000 students annually. The College's expansive academic breadth and depth allows students to choose their own educational path. The College offers three bachelor's degrees as well as a comprehensive variety of diplomas, certificates, and citations.
Learn more
http://itunes.com/apps/langara
Media contact
Ian Humphreys, Ph.D.
Director, Communications & Marketing Services
Langara College
604-323-5671
news@langara.bc.ca