Jun 17, 2010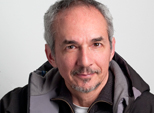 Vancouver, BC – Rick Etkin is the recipient of the 2010 Langara College Outstanding Alumni Award for Industry Achievement. The annual award celebrates the contribution of exceptional individuals who have enhanced the reputation of the College through their inspirational career, public service, community service, athletic, arts and culture, or academic achievements. He was awarded the honour at the College's 44th annual Convocation Ceremony held on June 3.
Since his graduation from the Langara College Photo Technician program in 1978, Etkin has owned and operated a successful advertising photography and commercial production business. He is an active member of the photographic community and is a founding member and former president of the Vancouver Chapter of Canadian Association of Photographers and Illustrators in Communications (CAPIC). In addition to his work with CAPIC, he volunteers with the Variety Telethon providing photographic services during the telethons as well as for public relations purposes.
In 2010, Etkin realized a childhood dream of being part of the Olympics when he was chosen to be the Supervisor Photo Services for the Mountain Region with the Vancouver 2010 Olympic and Paralympic Games. He shared his Olympic experience with the Langara community by recruiting photo department instructors, alumni, and students to be part of his press operations team.
"Rick is an active leader in his industry and a sincere advocate for our College," said Dr. David Ross, president of Langara. "He has served on our Professional Photo-Imaging program advisory board for over 25 years, guest lectures for the program and hosts students for work practicums. We are honoured that he is a Langara alumnus."
Langara College, located in beautiful Vancouver, BC, Canada, provides University, Career, and Continuing Studies programs and courses to more than 20,000 students annually. The College's expansive academic breadth and depth allows students to choose their own educational path. The College offers three bachelor's degrees as well as a comprehensive variety of diplomas, certificates, and citations.
Media contact:
Ian Humphreys
Director, Communications & Marketing Services
Langara College
604-323-5671
news@langara.bc.ca