A passion for purpose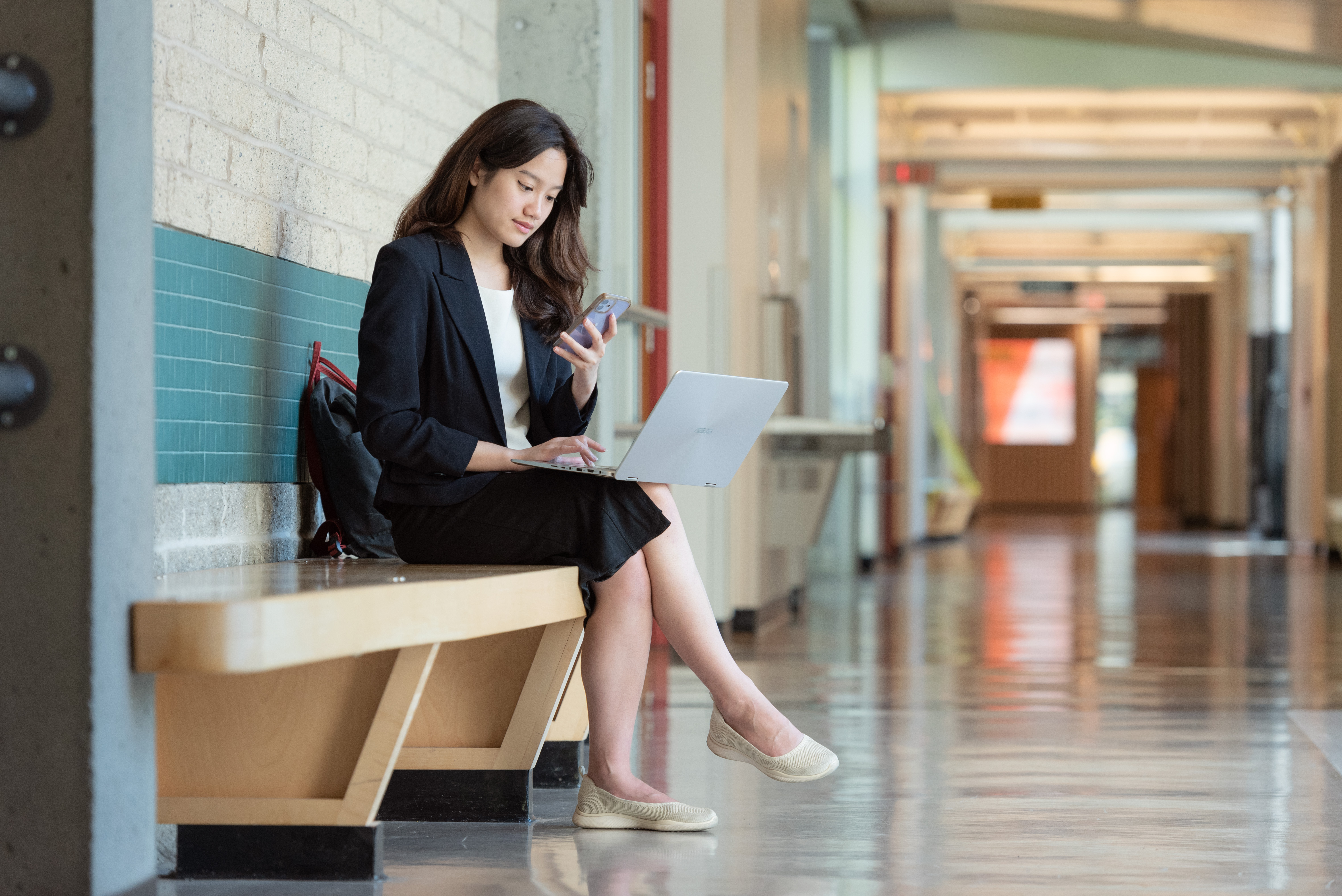 Rachel Chiam had a severe case of nerves before starting her first co-op. She was in her third year at Langara, and her Bachelor of Business Administration (BBA) program required her to secure a co-op position with a company. The realities of a job were suddenly all too real. While she had some initial challenges in finding the right fit for her first co-op, she persevered through multiple interviews, and was hired by an inspiring not-for-profit where she could bring her passion and knowledge for marketing to her new role.
Before getting her first co-op position, Rachel admits she was anxious about the process: "At first, I didn't want to do a co-op." But Rachel enrolled in Co-operative Work Placement I (EXPE 2301) and immersed herself in putting together a professional portfolio. The course helped her to gain the confidence she needed to start applying for jobs. "The first term of your co-op is always the most nerve-racking because a lot of learning goes into it, and it all starts when you start applying for jobs." While the job search wasn't easy for Rachel because she didn't get hired right away. "That can feel de-motivating," says Rachel. "But eventually, you get there."
Getting creative with content  
The Stigma-Free Society has a big vision that would see the world "free of stigma" and filled with "awareness, understanding, and acceptance." With ambitious goals of raising awareness of their mission across Canada, Rachel was excited to support the not-for-profit in her role as Marketing Coordinator. With four social media channels, newsletters, and ongoing donation campaigns, you could say that the content demands were high for an experienced marketer. But Rachel rose to the challenge. 
"At the start, writing social media content was tricky, because the company was new to me," explains Rachel. Though the resources, such as the Student Mental Health Toolkit, and Rural Mental Wellness Toolkit, were well-developed and "self-explanatory," says Rachel, "it took some time to become familiar with them."
Stepping into a content management role almost always comes with navigating technology and learning new platforms. With guidance and support from the staff at Stigma-Free, Rachel was introduced to platforms such as Keela (database and email marketing), and Buffer (social media scheduling and measurement) and quickly figured out how to optimize these platforms to create, schedule, and manage content for the busy not-for-profit.
But much of the digital design work Rachel did on her own using Canva, a graphic design platform, where she incorporated the company's colours, such as light and dark blue, into social posts, newsletters, and campaigns. "I started using Canva because my previous job as a Marketing Assistant at Cogcentric Labs Inc, required me to use the tool to design promotional assets," says Rachel. "I was learning on the fly, and that's when I learned to make short informative videos and design posts on Canva. Since then, I managed to master my Canva skills and use it here at Stigma-Free."
Rachel drew on her creativity to "create social assets from scratch" and admits Instagram is probably her favourite channel. Canva became a "staple" for her in her job because she could quickly adapt sizing, colours, and text for different social media channels and contexts. But as she settled into her new job, she was given more responsibilities beyond creating content for the society's social media channels and she welcomed the opportunity to broaden her knowledge and increase her administrative skills.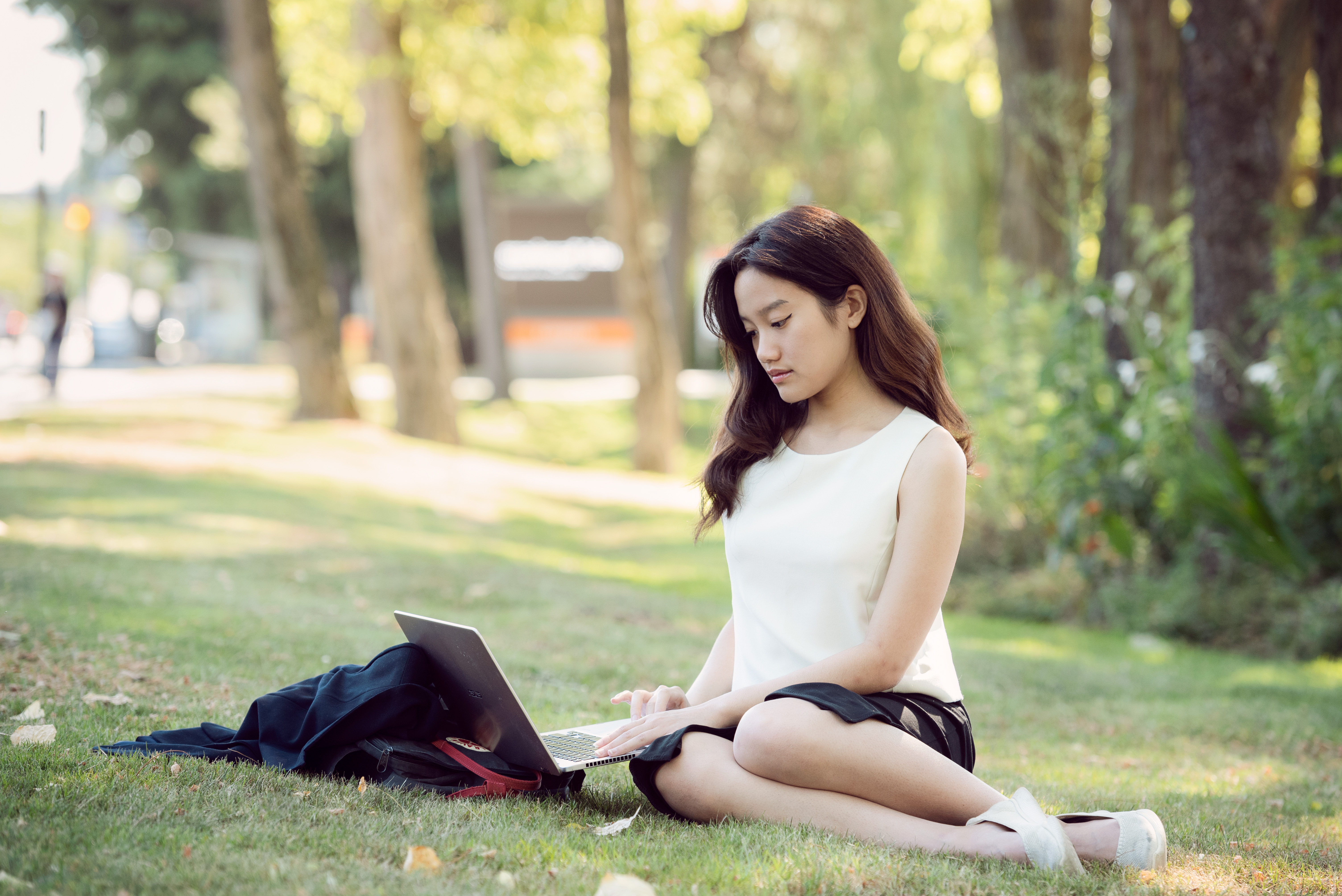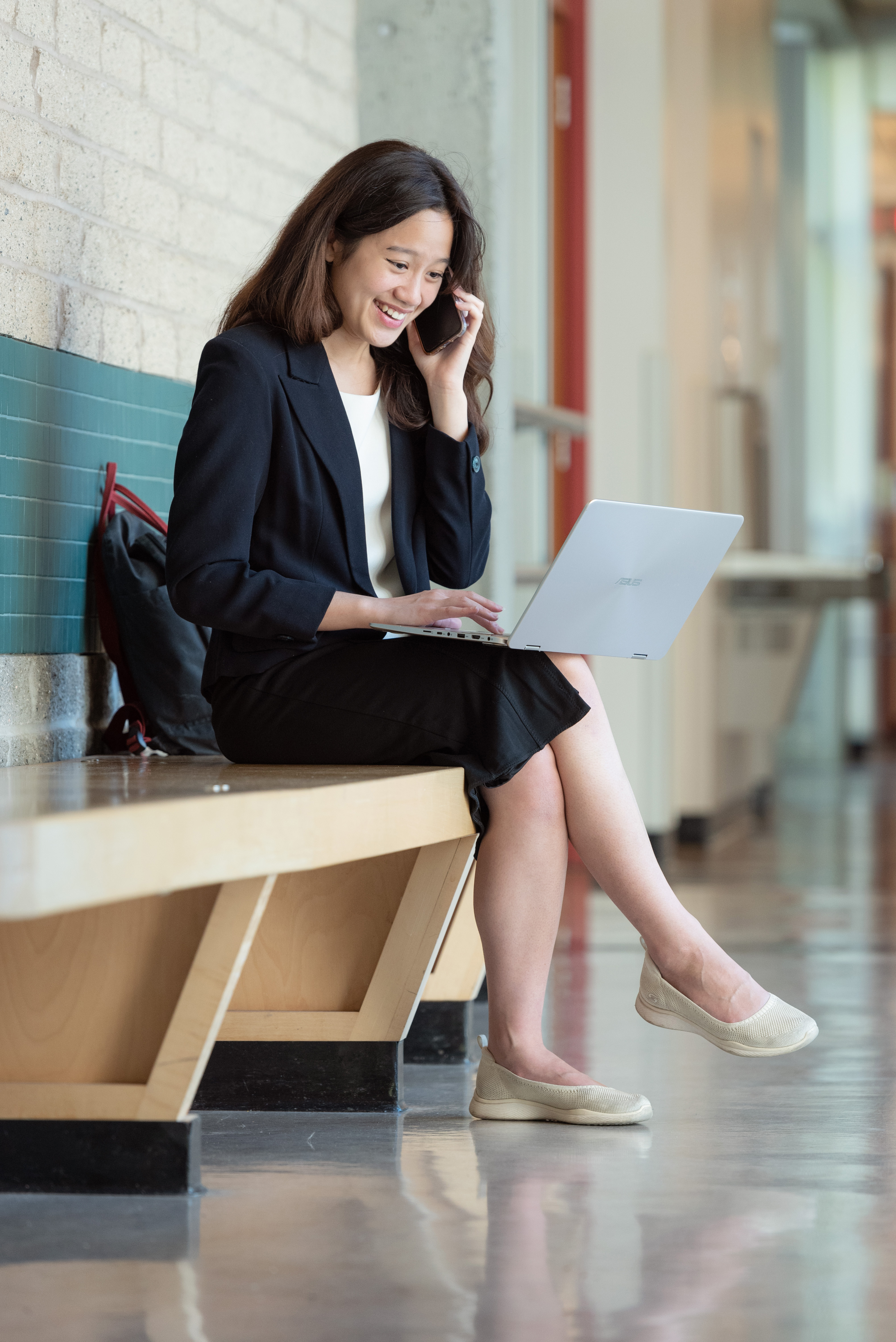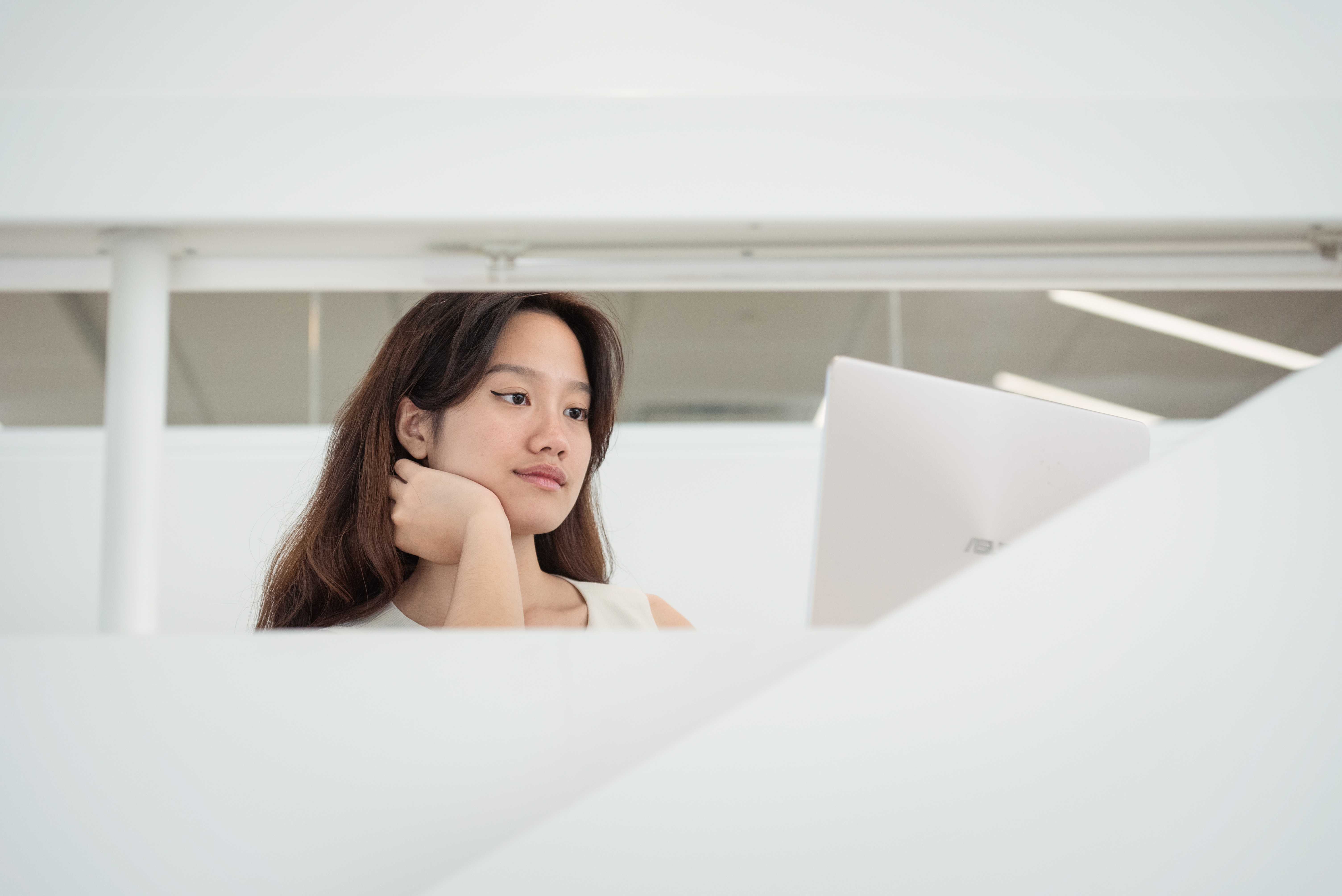 Getting clear on communications 
"I used to wonder, why does Langara make me take so many communication courses? Are they even useful?" remembers Rachel with a short laugh. "And then I had to write proper, professional emails."
At first, Rachel felt trepidatious about crafting corporate emails but took inspiration and guidance from regularly emailing her direct supervisor. "In the beginning, I would take a lot of time to compose the email and was often unsure if it was too long or worded correctly," she recalls.
"Writing emails was something I had to really learn," says Rachel. "But I thought to myself; I have to start somewhere." Over time, she gained more experience and soon began helping put together the Society's monthly newsletter. She also helped President Andrea Paquette to create a new newsletter featuring Stigma-Free program 'highlights' issue published mid-month to a subscriber base of 4,200 people.
"I enjoyed writing the monthly newsletters since I had control on which resources to promote and creating visual content using Canva to add to the newsletter," she says. "I couldn't be prouder of the newsletters I created and wrote for the Stigma Free Society."
Remotely speaking
Despite working remotely throughout her co-op term, Rachel always felt supported at Stigma-Free Society. Scheduled bi-monthly check-ins with her supervisor (who lived in Canmore) and frequent, open communication helped her feel like she could freely ask for and receive help whenever she needed it. "At first, I felt like I wouldn't be able to get support because it's all remote, but Shirley my supervisor, did an amazing job. She was always there for me."
As a growing not-for-profit, the Stigma-Free Society provided lots of opportunities for Rachel to work behind the scenes on strategic projects such as grant proposals. One such project was the development of a request for proposal (RFP), which Rachel helped to structure and format. RFPs are complex documents with a specific goal—securing funding to grow and achieve organizational goals. They are often dauntingly long, complex documents to complete. But the staff at Stigma-Free made sure to let Rachel know they supported her learning and that it was a priority. "They would say, 'You know what? It's okay. You can make room for error. You're still learning.' That attitude helped me so much," says Rachel. The supportive spirit of her workplace helped ease the pressure of steep learning curves and gave her room to grow into her role.
Medium and message 
Now in the last few weeks of her co-op, she can look back and reflect from a much more confident place than when she started. "It's normal to feel nervous at the beginning," she offers. "I now have a lot of empathy for anyone starting a full-time job for the first time." Her advice for Langara students just starting the co-op process is to be patient with yourself: "Learning eventually comes into place, and within a month or two, you'll feel like you've been working there for a year already." Working so closely with the Stigma-Free Society's messaging over the summer has positively influenced her perspective on mental health. "I've never been exposed to what mental health is actually all about," says Rachel. "Everyone says, 'oh, make sure you take care of your wellbeing, but it's a really serious thing for people who struggle with it."  
"And so now I'm a lot more considerate, she says. "I'm definitely more patient if someone's like struggling with mental health; I'm like, 'hey really take care of yourself'."
As she returns to school in September, Rachel is keen to complete the final year of her BBA degree. She's glad she's fulfilled her co-op requirement and is grateful for the experience she gained at Stigma-Free Society. "It was one of the best experiences I have had," she says. "Just knowing what it's like to do marketing for a not-for-profit has been such a good learning experience."