Applied Research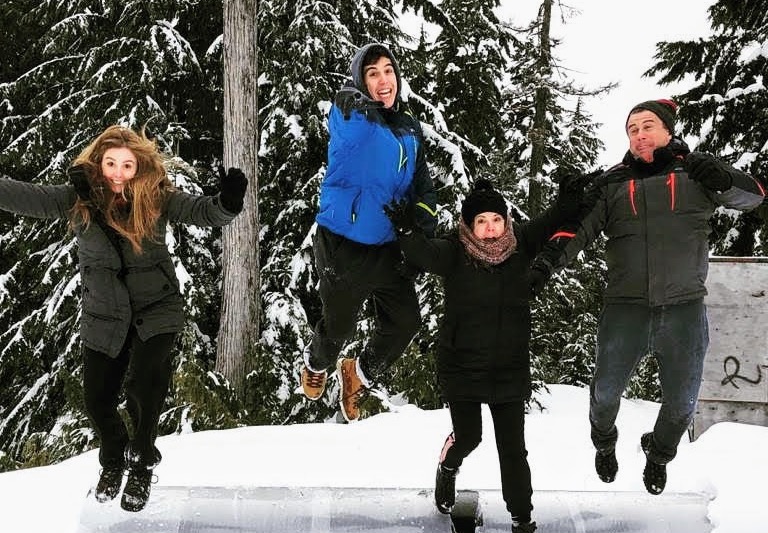 When Flavia Bento Halfen Dos Santos was considering what her next steps in her profession would be, she knew she wanted to study in Canada. In 2015, her daughter had done a two month English language program in Vancouver, and they had travelled as a family at that time to visit her and take her back home to Brazil. The experience affected the whole family and ignited a desire within her to return.
"We fell in love with Vancouver," enthuses Flavia. While visiting, she'd been impressed with the healthcare system in Canada. In Brazil, Flavia describes some of the challenges in accessing health care compounded by political issues as a significant issue for many Brazilians seeking healthcare. "In Canada, you have equity public health because your constitution is put in practice, and that doesn't always happen in Brazil," she explains. Flavia wanted a different life for her family, and with two children reaching their teenage years, this became more important to her and her husband. After her daughter returned to Brazil, she sent her son to complete five months of high school. He was only fifteen at the time, but Flavia says his adventurous spirit was up for the adventure. He went on to complete the year and became the family champion for life in Canada.
From sunny Porto Allegre, Brazil, however, the idea of Canada still seemed like a distant idea to Flavia, but she was determined to further her nursing education. "I knew a lot of resident nurses that came to Canada," says Flavia, "and I knew that there was a pathway to have our license recognized here." After researching programs, she applied to Langara's Post-Degree Diploma Nursing Practice in Canada, a two-year re-entry program for Internationally Educated Nurses.
In 2019, she and her family packed up their lives and moved to Vancouver so Flavia could begin her program on campus. While taking one of her first-term courses, Culture and Health, her instructor Olga Ahmad invited her to be part of a research focus group. The purpose was to learn more about the international student experience in order to develop a survey that would go out to international students at both Langara and the College of New Caledonia. The initiative was part of a research project funded by a $360 000 grant awarded to Langara College from College and Community Social Innovation Fund (CCSIF). The project focuses on developing new solutions that will better serve international students across BC. Langara partnered with four agencies from across the province on the project, including South Vancouver Neighbourhood House, College of New Caledonia, Multicultural Services Society of Prince George, and Immigration, Refugees and Citizenship Canada.
Flavia along with eight other students, participated in the focus group and shared their stories of the challenges each faced as an international student. "I heard quite interesting stories during that focus group," says Flavia. "For me, it's challenging here, we have ups and downs, and you never know if you can stay here in Canada. Something may not work, and you will need to go home. It's stressful," she admits. Some of the most pressing challenges the students discussed included housing affordability, the cost of living in Vancouver, and the toll these financial burdens placed on them as they tried to juggle the demands of their respective programs. The stories Flavia heard from her fellow students also spoke to the psychological challenges of being a young, international student, which Flavia found particularly touching Flavia as a mother herself.
When she discovered there were paid positions to support ongoing research for the project, she jumped at the opportunity and applied for a research assistant position. "Here I am an international student as well as a mom of international students. So I not only know as a mom, but I understand the students' lives as well," explains Flavia. "Many of the students in the group were young, so I really understood where they were coming from and thought, Maybe I can help."
She was selected as a member of the research team in January 2021. "My role was to work on the questionnaire that would be sent out to international students participating in the study," says Flavia. She helped to develop the questions with the survey tool Survey Monkey. With the support of project director Jenny Francis, she developed both qualitative and quantitative questions for the launch. The survey would gather data from 1,400 students at Langara and the College of New Caledonia in Prince George.
The survey launched in March of 2021, a time when, says Flavia, "people are losing their jobs, having to go home, or can't go home at all. A very difficult time in the world," she says. It was also a challenging time for Flavia herself as she, like so many other students worldwide, transitioned from a campus experience to taking her courses online. But reading the students' answers that came back in the survey gave her a kind of strength, and she admired their courage in the face of such adversity.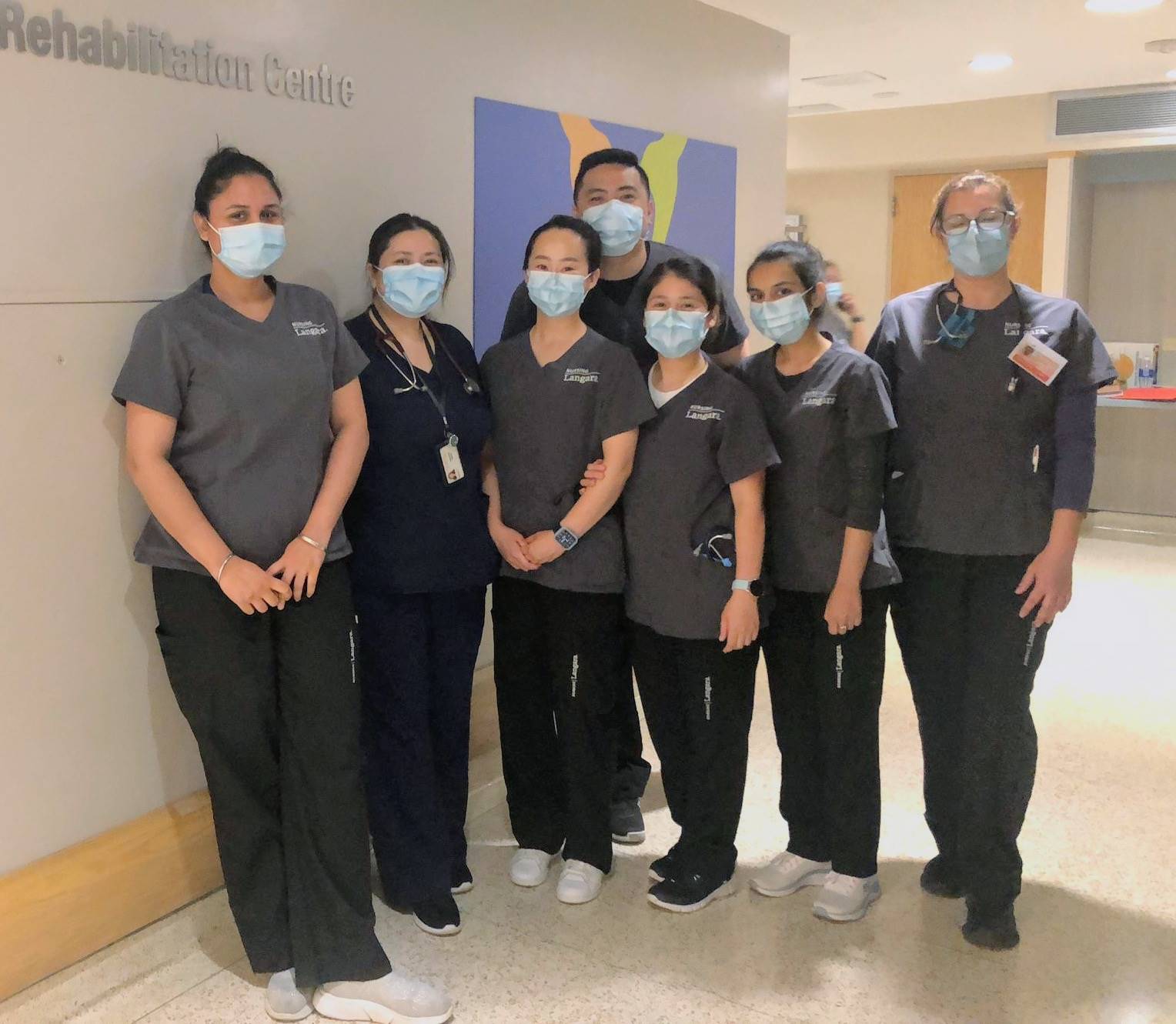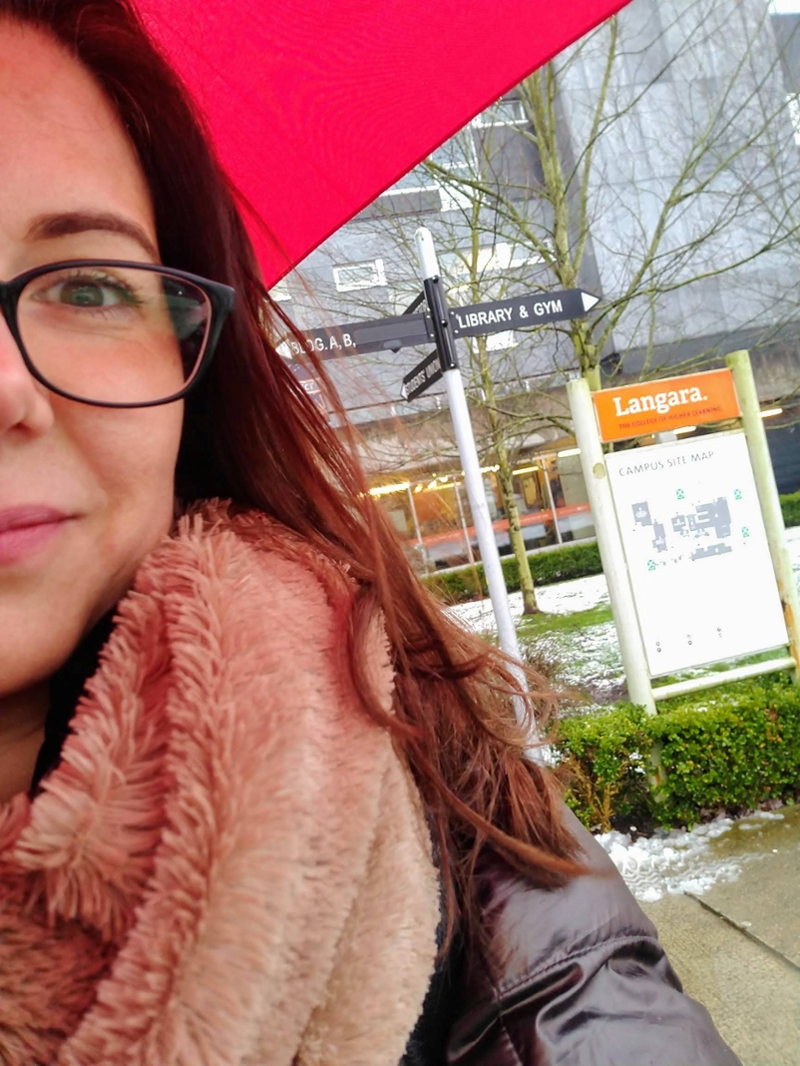 A Path to Support
As more of the survey answers came in, Flavia found herself immersed in student stories. It quickly became clear to her that there were a lot of complex challenges for international students in nearly all aspects of their lives as students. "They need a lot of support," says Flavia. "They're not only a source of money. They're humans; they're trying to have a better life here with dreams and hopes." Yet despite the hardships, says Flavia, students were committed to their studies and to a better future. "When I read these stories, I can see some of them go through so many difficult things, but they are not disappointed to be here. They want to keep their dreams here; this is hope. This is how they do try to have a better life."
"The obstacles international students face will be better identified through this large survey," says Flavia. She adds that "support organizations, such as Immigration, Refugees and Citizenship Canada, can then act on these research findings." The explorative study looking at international students' education, employment, and immigration outcomes is three years long and will offer ongoing research opportunities for students at Langara. Flavia hopes to continue working with Jenny Francis on the project. "I can say that there is something very special about Jenny Francis," offers Flavia. "She is so open, and I felt so special being in this group. I feel that research assistants bring so much energy to the team. Jenny always has this concern to make us feel comfortable, to listen to us, and to make sure to have our voices heard."
The next stage of research for Flavia will provide an opportunity for her to lead a focus group. "We have to do to focus groups with 150 students who volunteered to participate, and we'll divide them into 15 groups focus groups," explains Flavia. "Each research assistant will be responsible for one or two groups, so the research will aim to go deeper on qualitative questions." Conducting this type of research has given Flavia a new appreciation for research in general and a more meaningful connection to Langara, to Canada, and to her fellow research assistants on the project.
In the meantime, she still has one more nursing exam before getting her provincial licence to practice in BC, but she's optimistic. She's also hoping to continue working with Jenny Francis in 2022. She's a strong believer in the benefits of participating in a research project and urges any student to take the opportunity if they have the chance. "Go for it," she enthuses. "It is so interesting. You learn a lot and develop practical research skills you can use in your career. It's a different environment than the classroom," offers Flavia. "You get to know the researchers and the research process. Many professions can benefit from this, so as a student, be curious about this opportunity. If you know your instructor is doing research, try to talk to them and ask for an opportunity."
READ MORE STORIES