Live, Learn, and Earn at Disney.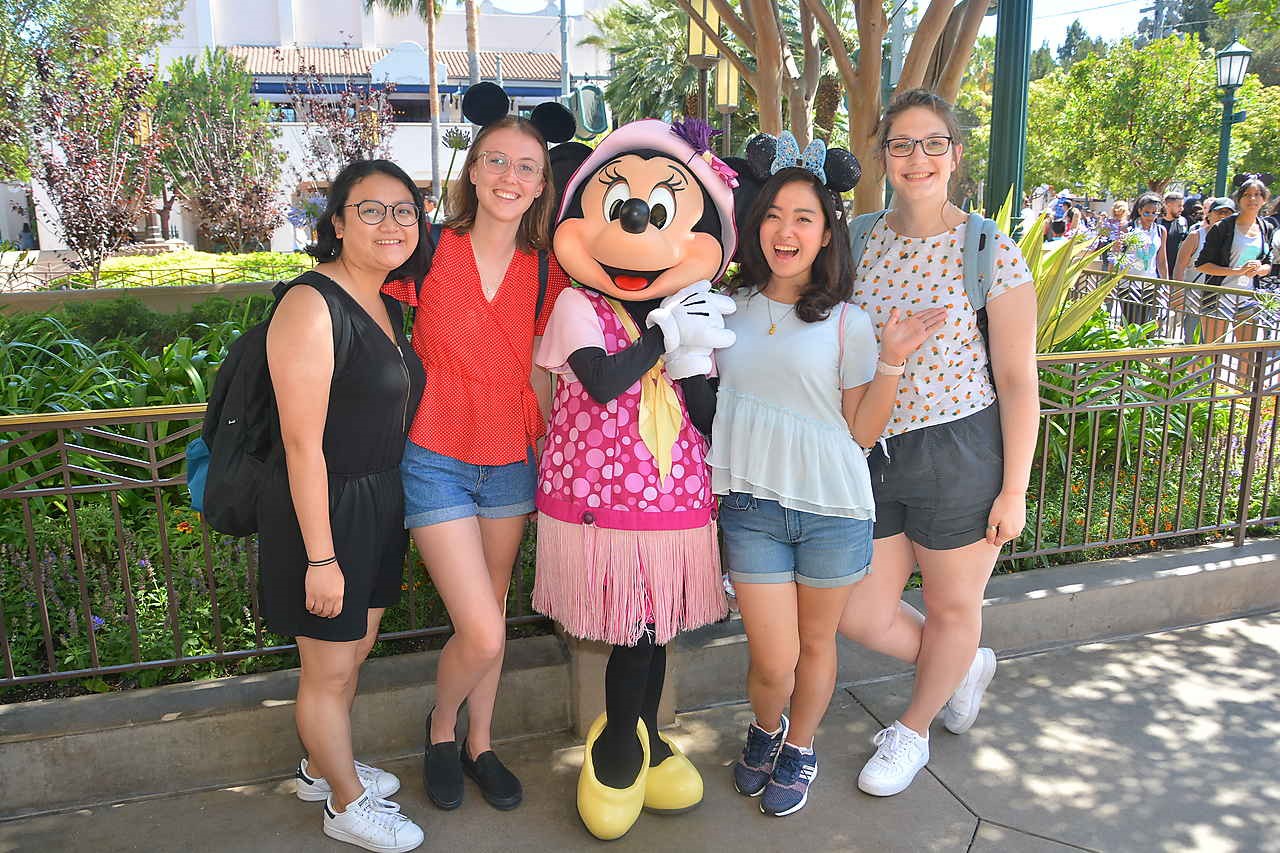 The Disney Field School program is currently on hold due to COVID-19. Please check back or email coop@langara.ca if you have any questions. 
Langara College, in partnership with Disney International Programs and the University of California, Riverside, offers a unique international field school where students have the opportunity to work at Walt Disney World. 
The program blends nine credits of academic coursework at the University of California, Riverside and at the Disney University with six months of supervised paid training at Walt Disney World. The program is open to all students. 
Students who participate in the Disney Field School: 
Are part of a rare opportunity: Langara is one of six Canadian post-secondary institutions to take part in Disney International's Academic Exchange program. 
Have the ability to expand their resume: Build your resume through experiential academic training. Training opportunities include a range of roles including hospitality, merchandising and sales, attractions, and food and beverage. 
Experience life-changing opportunities: Learn important business philosophies from Disney leaders and make friends around the world while earning your credentials at Langara. 
For questions about the Disney Field School, email coop@langara.ca. 
Program Information
This program is designed for exceptional students who seek careers in the field of international tourism, hospitality management and business. It enables participants to study on the UCR campus and participate in field experiences at popular attractions in Southern California prior to an experience on the Disney International Program. When complete, move on to Walt Disney World Resort in Orlando, Florida, where you have the opportunity for a paid, work experience in the hospitality field. 
Benefits:
Earn a Co-op credit toward your Langara credentials 
Receive paid, recognizable, real-world training, and life-changing opportunities you can't get anywhere else 
Earn a Certificate in Management or a Hospitality and Tourism Management Certificate from The University of California 
Work with a world-renowned entertainment company and learn skills from Disney leaders 
Meet people from around the world 
Accommodations:
Living at the University of California, Riverside: During the California component of your program, students will stay in the International Residence Center on the University of California, Riverside campus (triple-occupancy). The cost of the residence and meals is included in the program fee. 
Living in Florida: While participating in the Disney International College program, students live in company-sponsored, fully-furnished, one-to-four-bedroom apartments near the Walt Disney World Resort. A bus system provides students with transportation to work, classes, shopping, and social activities. 24-hour security is provided. 
The accommodation charge covers the housing fee, utilities, high-speed Internet, local phone service, and transportation. This charge is deducted from participants' weekly paychecks. 
January: Deadline to submit an application for the Disney Field School Program to the Langara Co-op and Career Development Centre by email to coop@langara.ca. 
February: University of California, Riverside and Walt Disney World representatives conduct interviews. 
February: Offers extended. Offers sent directly to students' Disney Dashboard portal. 
April: Students must pay their Disney Program Assessment Fee. 
May: Non-Canadian students must apply for a US Visa by booking an appointment with the US Embassy. Students must take acceptance package and passport to the meeting. 
June: Deadline to complete University of California, Riverside Pre-Arrival Survey (emailed to students) and student flight information. 
June: Tuition and health insurance fee due – ALL STUDENTS 
June: Students arrive at the University of California, Riverside (UCR). Transportation provided from LAX to UCR. 
June–July: Orientation and academic course work at University of California, Riverside. 
July: Students leave for Walt Disney World, Orlando, Florida. 
July: Students arrive at Walt Disney World (housing check-in from 12:00 pm–3:00 pm). 
July–December: Students work at Walt Disney World and take one in-person course and one online course. 
December: Students fly back to Vancouver. 
Dates are subject to change. 
Expenses: 
$450 (USD) Application fee – paid to UCR 
$4200 (USD) Tuition and UCR/Disney school fees 
$1170 (USD) UCR Medical Insurance fee 
$160 (USD) Visa Processing Fee (paid to US Consulate) 
$180 (USD) SEVIS fee (Paid online to the Department of Homeland Security) 
$154 (USD) Program assessment fee (Paid to Disney) 
$1000 (CAD) Round-trip ticket from Vancouver to Orlando with a stop-over in Los Angeles 
$70 (CAD) Langara Student Union and Capital Building Legacy Fund fees  
Expected Costs at Disney World: 
$155 (USD) Books/materials fees 
$2200 (USD) Accommodations based on $92.50/week 
$1300 (USD) Food based on $50/week 
$1300 (USD) Miscellaneous expenses  
Expected Earnings at Disney World: 
$15,000 (USD) – Averaging 37.5 hours/week for 6 months