Co-operative Education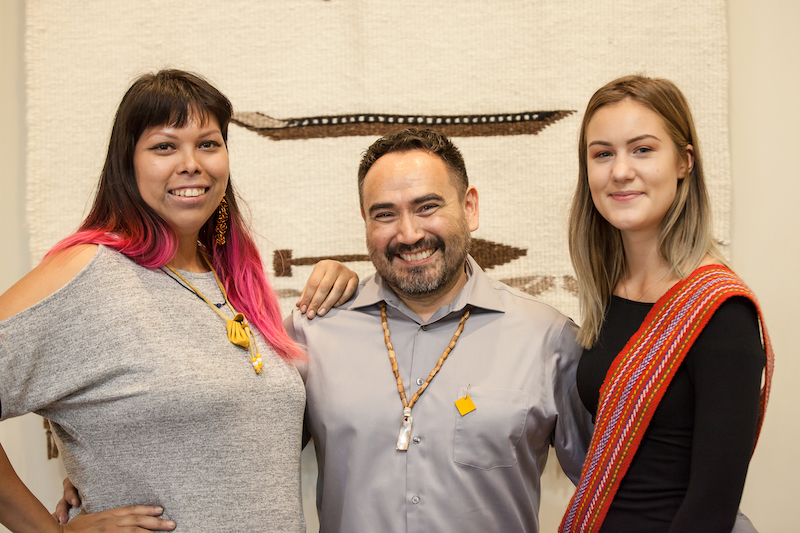 When Jimmy Aitken chose to go to Langara as a mature student, he couldn't possibly have known the impact he would have during his time at the college.
His initial plan was to pursue an associate degree in business commerce and transfer to UBC but saw that there was an opportunity to do a co-op through taking the Business Administration program at Langara and shifted his academic career (and life) trajectory at that point. "As a student, I started becoming aware of the needs of Indigenous students in post-secondary. I saw a gap that needed to be filled at Langara." So Jimmy pitched the idea of doing a co-op to the Indigenous Education and Services department. With the support of Langara's Co-op and Career Development Centre, Jimmy was able to shape his co-op to better serve Indigenous students' needs and increase awareness of Indigenous culture and traditions across campus.
But being a mature student had its challenges. Jimmy describes walking into class and students mistaking him for an instructor. But over time, he says, his classmates saw his lived experience as "an opportunity to gather knowledge to contribute to whatever we might be talking about in class." In addition, he valued the team-focused curriculum in the business department. He was relieved there were younger students he could team up with students who were equally committed to their education.
As he spent more time as a student on campus, he observed no formal acknowledgement of National Indigenous Peoples Day at Langara. "I thought we needed more Indigenous content on campus. There are international days where they formally acknowledge other cultures, but there was no acknowledgement of National Indigenous Peoples Day, so I thought this needs to change."
Creating A Welcome Space
Jimmy's co-op focused on creating a campus-wide campaign and event to celebrate National Indigenous Peoples Day. But more importantly, he points out, "it was about creating awareness and an environment where Indigenous students would feel comfortable and feel included."
The project's grand scale didn't phase Jimmy; he relished the challenge and scope. "It was awesome," he says.
One of the many creative ideas Jimmy proposed for the event was to have a line-up of Indigenous artists performing throughout the day, which meant managing a diverse group of people and contracts, ensuring each of them showed up on time and were where they were supposed to be on campus. "The real learning curve," remembers Jimmy, "was engaging with Indigenous artists and having to draw up contracts and ensuring the cheque requisitions for payments were submitted in time so that performers would receive their payment on time.
What unfolded was three days of vibrant Indigenous culture across campus with performances of the Haudenosaunee Social Dance, Jingle Dress dance, Fancy Shawl dance, and Hoop dances timed to happen between classes so the maximum number of students could see them. At the same time, students, staff, and faculty could sample traditional foods and wander the Indigenous artist market set up in the college's main foyer. Additionally, a workshop, taught by an Indigenous student, on making medicine pouches was offered, and Elder-in-Residence, Mary Jane Joe, led a traditional smudge ceremony for anyone that wanted to participate.
The immersive, community-wide celebration shifted things, not only for Jimmy but for Langara. Jimmy was asked to stay on at the Gathering Space. He secured a contract with the Indigenous Education Services department and continued the work he'd started in his co-op but on a more official basis. Around this time, a Langara faculty member reached out to him as the faculty member had purchased hundreds of orange shirts and wanted to give them to the Indigenous Education and Services department, but no one knew what to do with them.
But Jimmy had a pretty clear idea and set to work on bringing it to life.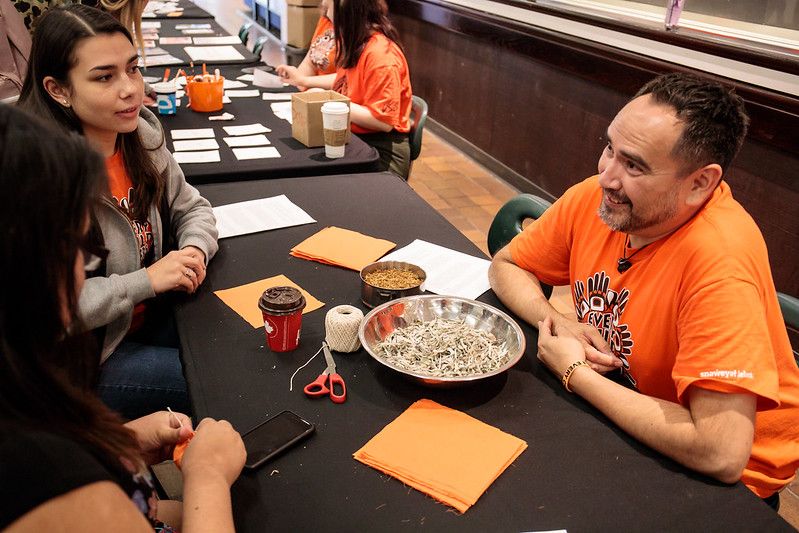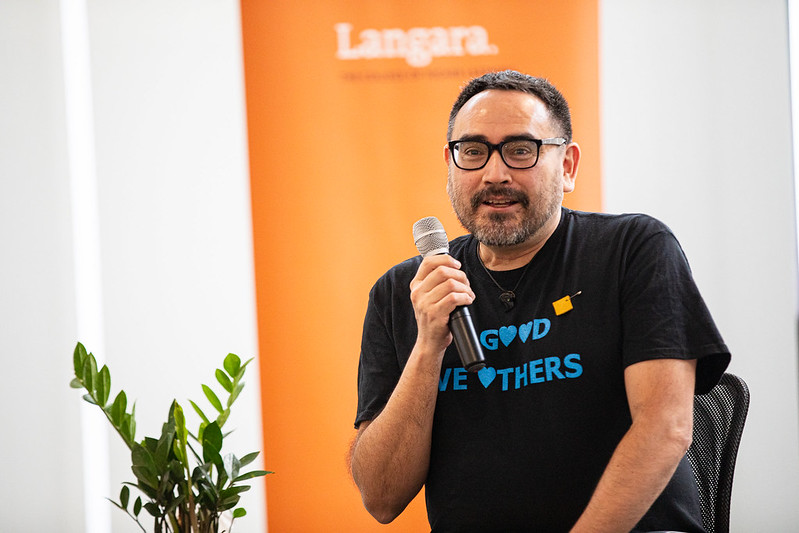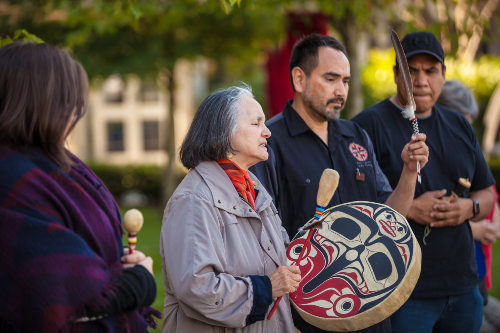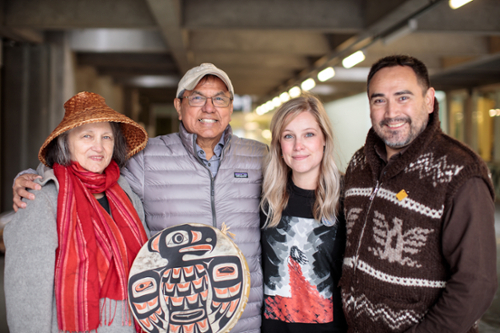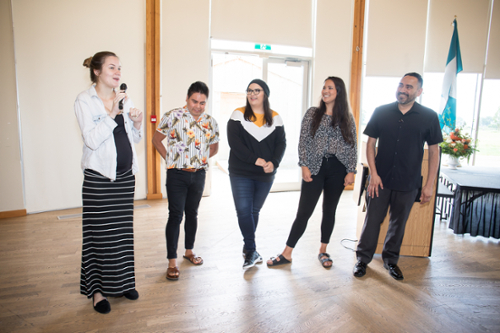 Building Community, One Shirt at a Time
Seeing an opportunity to raise awareness about residential schools, Jimmy knew it had to be a community effort if it was going to raise the kind of awareness he envisioned. "I created a campus-wide event, raising awareness about orange shirt day and what it means." Jimmy quietly set about building a sense of awareness before the event and visited vendors on campus such as Starbucks. He gave everyone an orange shirt to wear and the Langara Library and main cafeteria all central hubs for students where he knew there'd be high visibility. He leveraged all of the faculty and staff relationships he'd made through his co-op – to generate awareness in classrooms and beyond.
"You need engagement from everyone, not just a select few people. The whole campus needs to be involved if you're going to get buy-in to see the importance of awareness and the College's relationship with Indigenous people. So once you get buy-in from everyone else, then when people talk about it, they will be more engaged with that conversation."
In his role as a co-op student for the Indigenous Services and Education department, he was the main point of contact at Langara's Indigenous Gathering Space for Indigenous students. He managed all aspects of the space, including planning Feast Days each month, arranging workshops such as drum-making and beading with Elder-in-Residence, and assisting with the Indigenous Student Honouring Ceremony. 
During this time, Jimmy started to notice more students coming into the Gathering Space. Then more staff and faculty began to visit the space. The community he'd envisioned during his co-op was now starting to genuinely grow because, as he explains, it was "because students saw Indigenous culture being represented on campus." The events helped them feel seen, and in turn, more faculty and staff began to trickle into the Gathering Space, exponentially growing the campus-wide ripple effect of raised awareness. "The potlucks grew so big," recalls Jimmy with a laugh,. "We had to turn people away and ask them to come back later."
Perhaps a more subtle shift Jimmy noticed was the number of students who had just found out they were Indigenous and, as he explains, "their Indigeneity was never talked about." He explains that in some cases, the student might be Métis or their parents were in the Sixties Scoop, and they would "come to the Gathering Place to start gathering knowledge and connecting with the community. So it was both about their growth as a person and the Gathering Space was seen as a community safe space."
Jimmy is quick to point out that Langara's Gathering Space is open to all students. "There is an opportunity for knowledge to be shared and for students to see there's not just one homogenized view of Indigenous people but rather a rich mix of traditions and practices that each nation has."
Finding a Place to Grow
He experienced the impact of knowledge-sharing during his co-op. "Both my parents died when I was young, so connecting with an Elder at Langara and seeing the smudging ceremony was a learning experience for me." Jimmy eventually gained the knowledge to conduct the ceremony on his own. "She also incorporated cedar brushing, which is a West Coast cleansing tradition, so that we could do that on campus as well."
What started as a desire to do a rewarding co-op and raise awareness and support for Indigenous students at Langara eventually grew into a full-time permanent position as the Indigenous Student Engagement Officer at Langara. A self-professed 'behind-the-scenes' kind of guy, Jimmy grew as a person as he engaged with students across campus and honed his community-building instincts. "I like helping people," he explains. "Seeing people happy and having a positive experience instead of just going to class, doing assignments. You need balance. Going to school is all about the whole experience."
Now working at Vancouver Community College (VCC) as their Indigenous Engagement Advisor, Jimmy is keen to contribute to the "movement towards indigenizing curriculums and indigenizing spaces. I want to be a part of that."
These days, his advice to students at Langara or any other post-secondary institution is always the same: take a co-op if it is available to you. The impact on his life from his co-op experience not only gave him practical, hands-on training and invaluable skills such as public speaking, but it also opened up a meaningful career path in higher education. "The co-op allowed me to experience working in post-secondary. And I found out that is where I want to be and where I can put my energy for reconciliation. That was something that I wasn't aware of before doing my co-op. I didn't think post-secondary education is where I could do my reconciliation work, so that was huge."
Jimmy's life in academia continues to evolve in exciting ways. After a brief break from being a student at Langara, Jimmy is "throwing himself back in" to school at Royal Roads University, where he'll be starting his Masters of Arts in Leadership at the end of the year.
Jimmy admits that while his co-op didn't closely relate with his business administration curriculum, it gave him much more than he ever could have anticipated. "It allowed me to see where I fit in. Where I feel happy."
READ MORE STORIES