Applied Reactions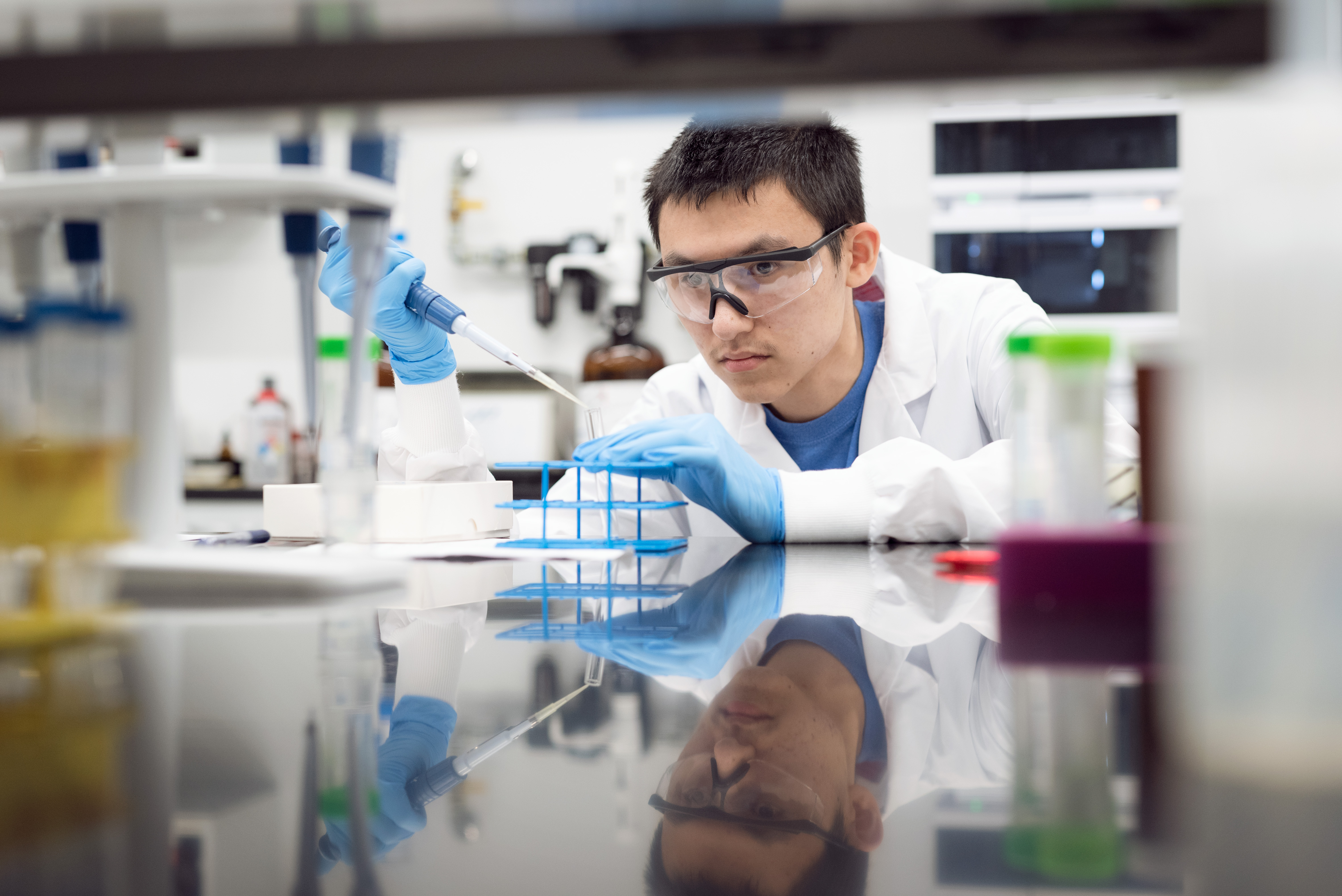 Toby Mills is fascinated by how objects react to one another. In his competitive years as a curling champion, his skill at anticipating the reaction between dense granite discs across icy surfaces saw many a victory on the ice. In school, it was between molecules in chemistry class. 
In 2019, while still competing in junior-level curling, Toby decided to enrol in general sciences at Langara. In his first year, he sampled a wide range of biology and chemistry courses. In his second year, with a deepening interest in chemistry, he took an organic chemistry course where he learned about an ongoing applied research project, open to student participation.
When Toby found out it would involve a spectrophotometer, a complex instrument which measures the intensity and absorption of light after it passes through what are often unknown sample solutions, he applied for the job.  "In organic chemistry, we'd learned about spectroscopy, which is a way of identifying unknown compounds by using instruments such as a spectrophotometer," he explains.
Funded through Langara's Applied Science for the Canadian Cannabis Industry (ASCCI) research initiative, which received grants of $2 million from the Natural Sciences and Engineering Research Council (NSERC) and $1.3 million from the Canadian Foundation for Innovation (CFI), the five-year project is studying cannabis varietals with various industry partners. 
For Toby, it meant joining the research lab for industry partner Pure Sunfarms. Located in nearby Delta, B.C., Pure Sunfarms is one of Canada's largest producers of greenhouse-grown cannabis and cannabis products. 
Real-World Reactions
Classroom theory and study skills are one thing, applying them in a real-world research laboratory is something else. "I was nervous to start," admits Toby. "You get a little bit of experience as a student taking labs, but the results of those labs don't really matter. Your grades might go down a little, but it's a pretty safe environment." 
However, under the guidance of lead project researcher, Langara chemistry department Professor Kaitlin Lovering, Toby felt he was on firm ground: "It was pretty cool for me because I had not seen those instruments in person before," he recalls. "I thought, 'Okay, it's serious now'." 
Among the project's goals: assess the optimal processes for developing and curing the cannabis, ensuring quality control. Here, the spectrophotometer and the skills behind it are vital.
"I add a solvent to the cannabis and the mixture undergoes a process in which it is heated, and enzymes are added. During this process, I measure absorbance values at different wavelengths of light," explains Toby. Measuring the simple sugars, starches and chlorophyll levels are among the many other crucial parameters in the process.
Mindful of falling into too much chemistry jargon, Toby doesn't want to get into "so much technical detail" but admits that his work in the lab is more like "fun problem solving." He takes a pause then adds, "maybe not fun at first, but once you figure it out, it's a lot of fun."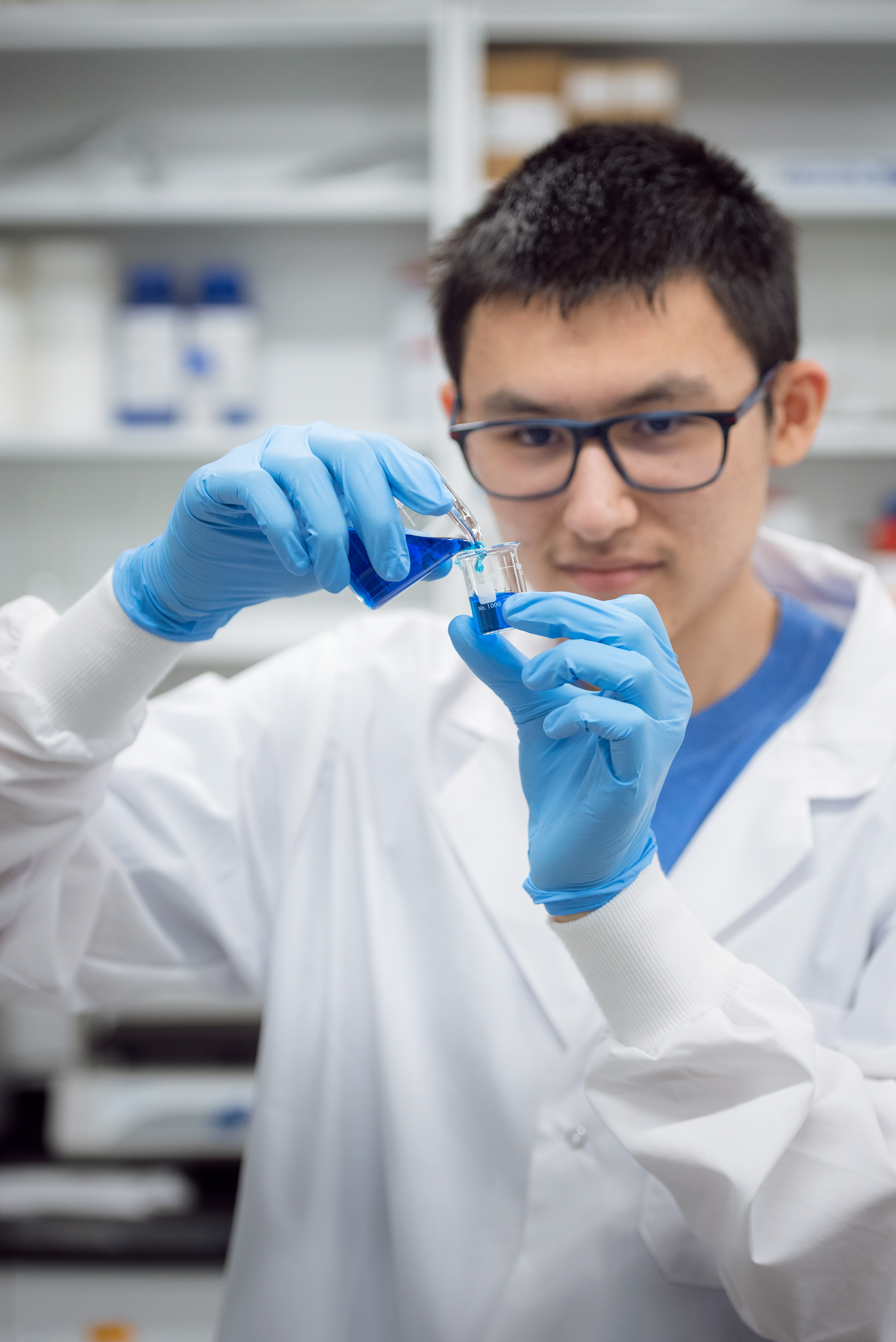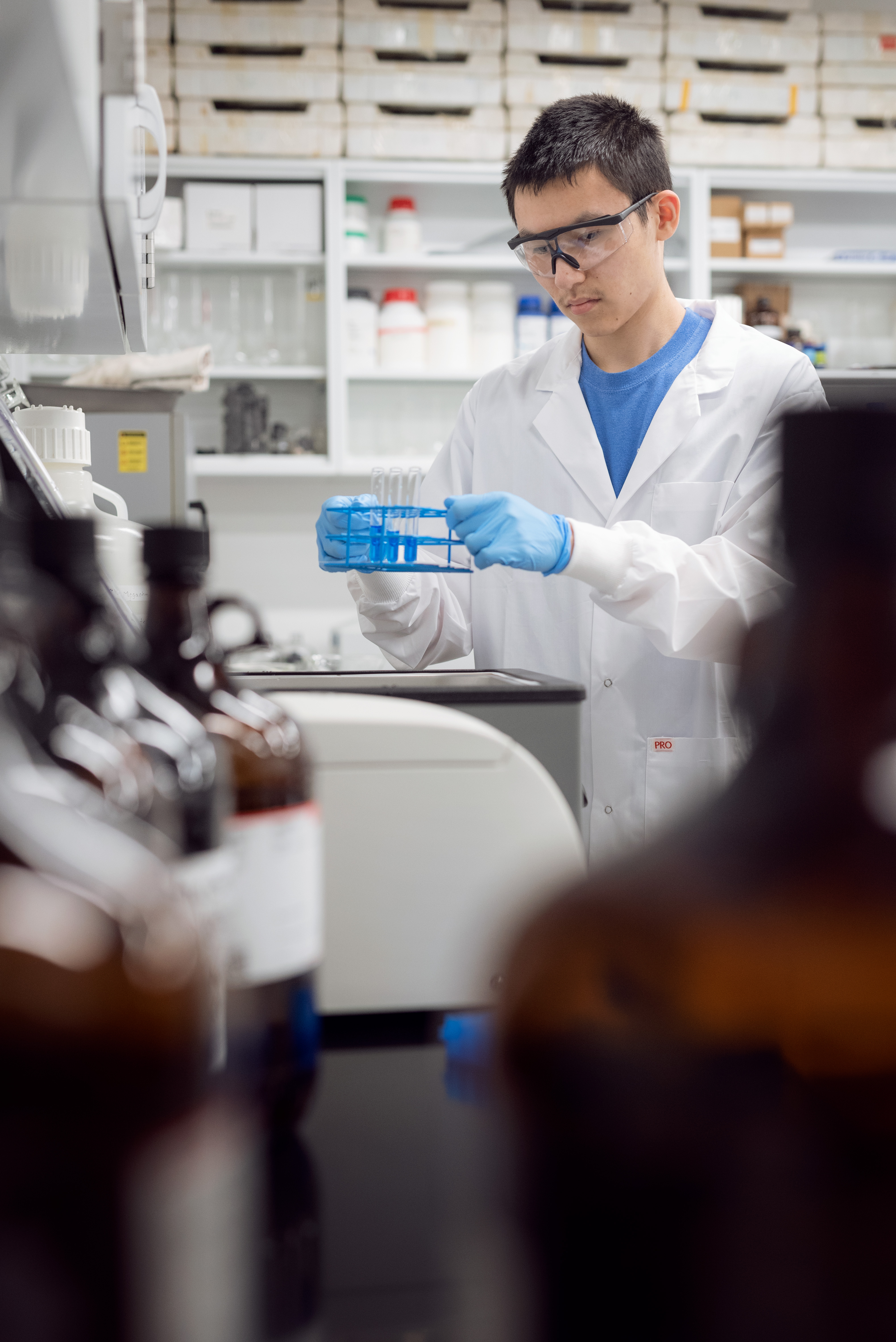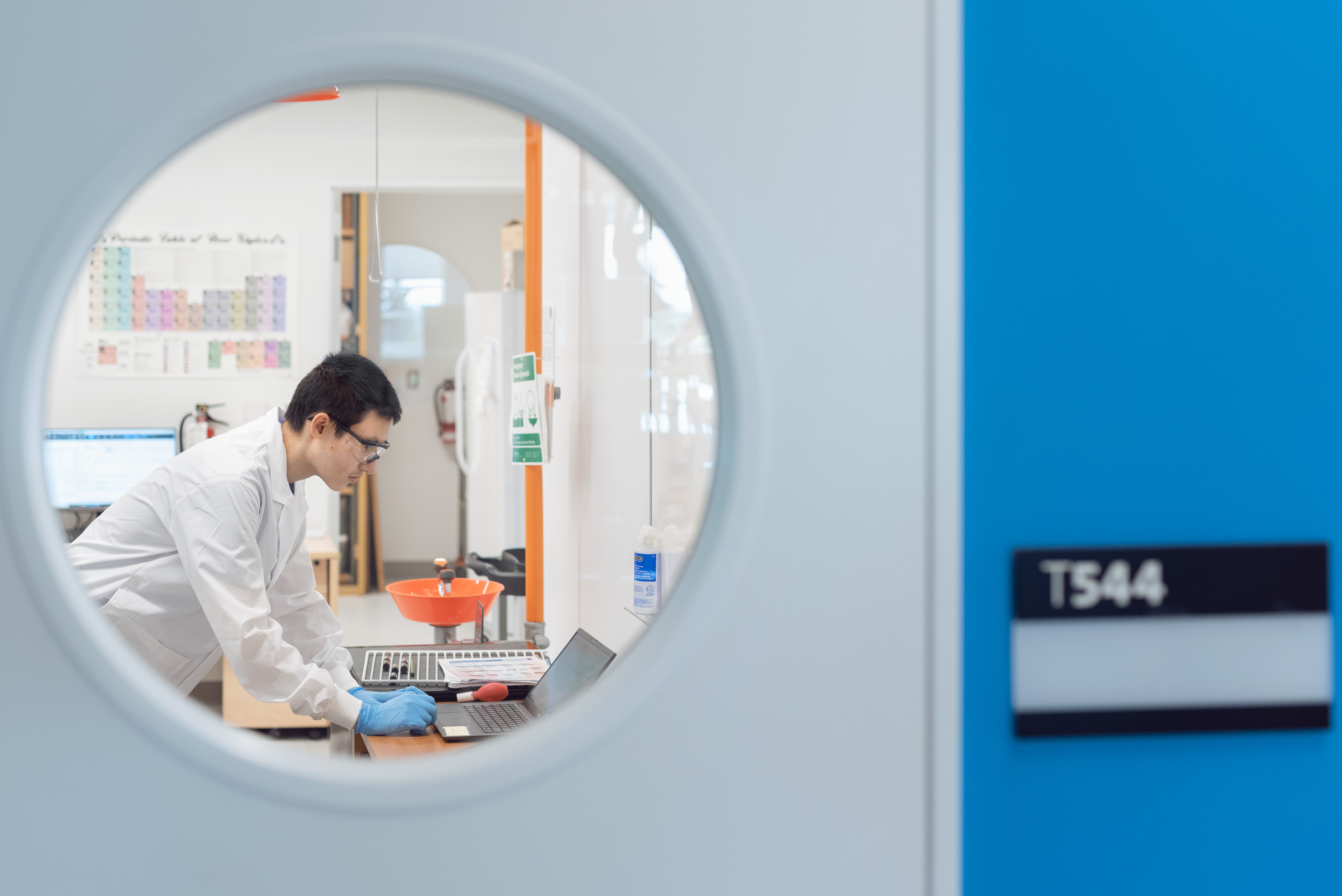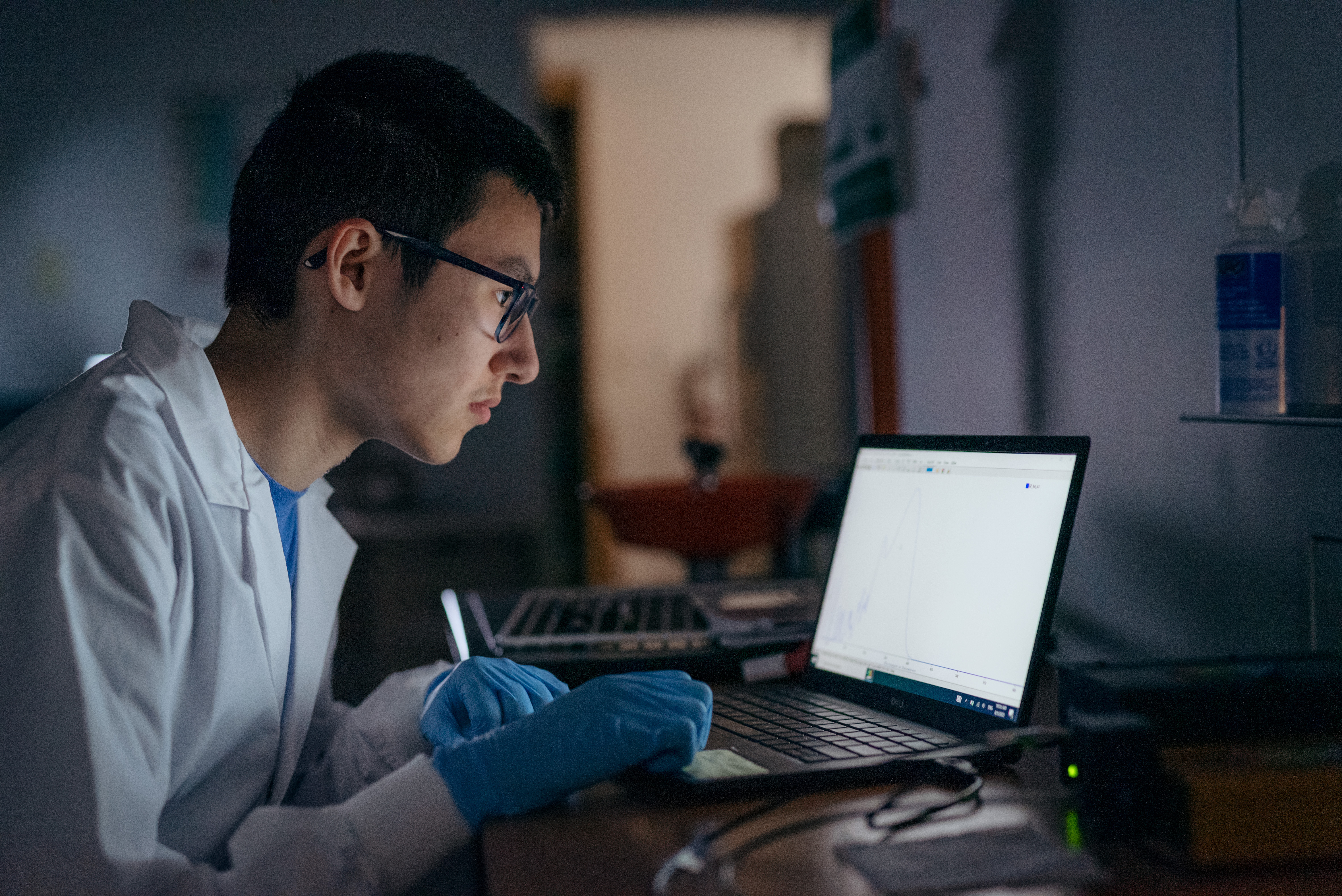 Theory vs reality 
It takes meticulous, careful processing to consistently provide accurate data. When Toby ran his first samples, he had the classic What if I'm messing this up? moment. But he emerged with good results. "So, I got started on the right foot."
It is a leap from classroom theoretical to clinical reality.
"When you look at it on paper, it works," notes Toby, "but when you actually have to try to recreate it in the lab, it's not so simple." However, with Kaitlin's support, his skills and confidence grew, as did the accuracy and usefulness of the data harvested. Says Toby: "It's important you're confident in the data you're getting."
Toby is now comfortable doing the tests on his own, sending the data on to Kaitlin, who then interprets the results and reports it to the industry partner. 
Initially hired onto the project in January 2022, Toby happily stayed on after his classes finished in April, completing a second work term in the lab over the summer.
The consecutive 'real world' work terms have given Toby a deeper understanding of how applied research is conducted in an academic/corporate environment. He recommends it to any science student seeking to expand their knowledge and put classroom theory into hands-on practice: "It's a great experience. You can figure out how a lab operates and get familiar with the equipment. You get to understand what you're learning about in your classes." 
Off the ice and into the classroom 
At the end of August 2022, Toby will complete his last work term for Langara as he has now been accepted into the esteemed UBC Department of Chemistry where he'll pursue a Bachelor of Science with a major in chemistry.
Competitive curling helped shape Toby's attitude, enthusiasm and innate fascination with the interplay of forces, actions, reactions and on-ice results. But in September, he'll be leaving behind bonspiels to pursue chemistry studies in the classroom. "I've put a lot of time into curling," admits Toby. "And I can still play recreationally, but I think it's the right time for me to focus on school."