Co-operative Education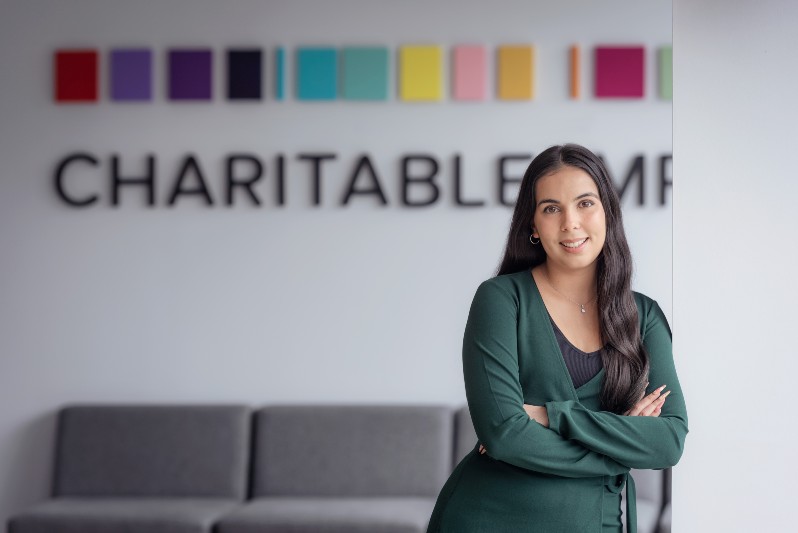 When Liz Yanes-Garcia decided to start her academic journey at Langara, she wasn't exactly sure what subject area she wanted to focus on. She knew she wanted to pursue business—she'd excelled in economics in high school—and as a serious Taekwondo competitor, she'd developed tenacious discipline and leadership skills. So, it made sense that if she took a few business classes, she'd eventually fall in love with accounting and maybe pursue a career in finance. 
"It could not have been farther from the truth," she says, a small chuckle in her voice. After trying out some finance courses in her first year at Langara, she quickly realized accounting was not the fit she'd envisioned. As it turned out, says Liz, she "did not like it at all." 
She started looking for something "creative but analytical" and decided to take an introductory marketing course with instructor Francesca Deveau. She credits Deveau with helping her decide to enter the BBA program and specialize in marketing. "She really opened my eyes to what was possible," says Liz. 
"So, I kind of fell in love with marketing and decided, okay, I'm going to specialize in the BBA marketing management program."
Liz had found her lane.
A Unique Experience
Liz worked part-time as a legal assistant when she wasn't in class and, in the process, gained first-hand experience of corporate culture and the day-to-day operations of a busy charity law firm. She was glad to be able to apply what she was learning in class on the job. "I had to solve problems and think on my feet," she says of the fast-paced environment.
Liz had the ideal job situation—she worked part-time during the year and then full-time during the summer. And it had been a sure thing for four years. Then Covid hit. "And here," says Liz, "is where my story gets a little interesting. It's what I would call a unique experience," she emphasizes. "At the time, I was still working as a legal assistant, and my lawyer decided to go into semi-retirement." The sure path ahead was now distinctly curved and by the following year, said lawyer was officially retired. 
Liz had completed an experiential prep course for her co-op, but she hadn't secured her co-op job, a mandatory part of her degree. But timing is everything they say, and as it turned out, the head of the firm's son, who also happened to be the CEO of a FinTech company in the charitable sector (Charitable Impact) was looking for an executive assistant. He offered Liz the job and was supportive of her doing her marketing co-op with the company. 
Working in a blend of in-office and remotely at home, Liz balanced learning the ins and outs of a new corporate culture and new boss. Observing the marketing team of her new employer as they worked on day-to-day challenges and the creative development of brand engagement was "fascinating", says Liz. "I got to listen to some of their meetings and see first-hand how to create a corporate brand and how to communicate," offers Liz. "I did social media audits, tons of research, and sourced events or webinars that were going on that would be a good fit for our company to attend." Getting exposure to the internal workflows of a marketing team validated her choice to "pursue marketing as opposed to accounting," she says. She relished the work and was grateful her co-op would incorporate event management.
Her first co-op project was to organize the company's holiday party, which had to shift to an entirely virtual celebration. As part of the company's events club, she helped organize a 10-day giveaway which included trips and hotel stays for staff. Coordinating the complex delivery of the virtual celebration affirmed her love of event management.  "Doing events was just so much fun for me," remembers Liz. "I loved coordinating all the different aspects of the party."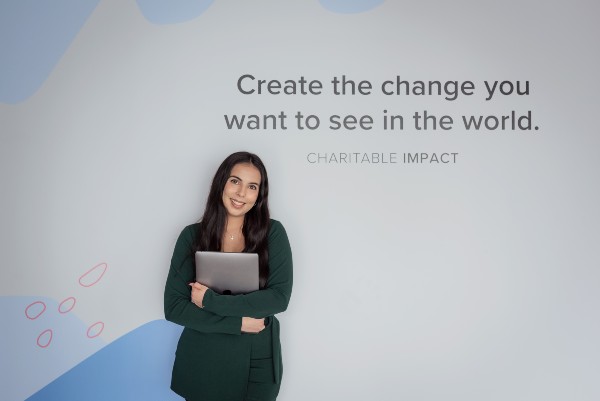 Inside Job
With more than five months of experience at her job, Liz decided to do a second co-op at her company (Langara allows up to four co-ops in the BBA program). She was given an opportunity to work with the donor experience team, where she gained experience in customer relations. While she appreciated understanding the more operational aspect of the company, Liz realized she wanted to be more aligned with external communications and client relations in terms of her co-op focus. It was the kind of challenging work that energized her, so she took it as a clear sign to pursue more opportunities if they became available.
At the time, there were some internal shifts in staffing within the company and as a result, a role became open as an Internal Communications Coordinator. Liz saw an opportunity and pitched the idea of taking on the job. With experience coordinating events in her first co-op, Liz was excited to take on a more active role within the company by supporting the Internal Communications Manager.
Learning about a brand "from the inside is helpful because it's a bit lower risk than external communications," says Liz, but it still required her to communicate to a team of 100 employees and continually wear, as she describes, her "problem-solving hat." 
One of the projects she was tasked with during her second co-op was supporting the team working on pulling together an all-team meeting for the company. Given she was also working as an executive assistant to the COO and CEO of Charitable Impact, she played a pivotal role in organizing disparate time zones and remote work considerations. It was no small task. "Google calendar is my best friend," she says with a smile. 
When Liz decided to complete a third co-op term with Charitable Impact, she had the opportunity to stretch her research skills when she was tasked to survey hybrid work models and solutions. Like most of the world, the company was very much still in flux and figuring out working in a the new 'normal'. With offices in Bengalaru and Vancouver and remote staff in Ontario and Vancouver Island, they faced numerous challenges staying connected during the pandemic. Liz researched how other global companies were managing a new blended model and put together ideas for their specific needs as a diverse company.
She also had the chance to flex her event management skills during her final co-op when she was given the task of coordinating the Corporate Sun Run for the Charitable the Impact team. Somewhat smaller in scope, but "a lot of fun" to use her event skills and be part of an internal communications initiative.  
In High Gear
When your goal is to have a career doing public relations for a major sports brand, preferably something exotic and globally recognized like Formula One racing, having three languages is a definite asset in your communications arsenal. 
Liz's parents immigrated from Venezuela to Canada in the nineties, so she grew up in a Spanish speaking household. She quickly learned English in pre-school and then in grade six, her parents sent her to French immersion. But amidst the sounds of animated Spanish conversations during her childhood was the unmistakable sound of precision tires going 200 miles per hour around a track. "My dad is a ginormous Formula One fan," Liz explains.
"I just remember watching it and thinking, if I can't be a driver, I would just love to be a part of the team somehow." 
These days, she's in the ideal place in her education and career to level up her qualifications and hopes to take an MBA with a sports management focus. She relishes the idea of doing external relations for a major sports team because she says, "it's very structured in terms of game media, and then post-game conferences, and then post-tournament conferences," she says. "I find that it's a good mixture between structure and chaos." 
As she reflects on her BBA and her three co-op terms, she offers some practical advice for other Langara students considering the BBA program: "I will say this to everyone who will listen – EXPE 2300 is the most helpful course you will ever take," she says emphatically, adding, "I am so thankful for that class."
Whether she's headed for big-league baseball or a Formula One racetrack, Liz is poised to find the fast lane, with her family, especially her dad, cheering her on from the sidelines. 
READ MORE STORIES