Appraisal Education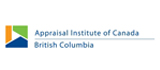 The Appraisal Institute of Canada awards two professional designations: the Canadian Residential Appraiser (CRA) and the Accredited Appraiser Canadian Institute, Professional Appraiser (AACI, P.App.).
The following three courses may be applied toward the CRA designation:
PROP 1004 Real Estate Law
PROP 1005 Real Estate Appraisal
PROP 1022 Residential Construction
The above courses, plus the following two courses, may be applied toward the AACI designation:
PROP 1020 Real Estate Investment Analysis
PROP 1024 Real Estate Mathematics
Note: UBC administers the entire Appraisal Institute of Canada Education Program across all of Canada on a distance education basis. Langara College offers the above courses on a classroom basis to serve local students. For complete information on the Appraisal Institute of Canada Education Program, visit www.realestate.ubc.ca. Students who intend to transfer course credit from Langara to UBC should discuss their education plan with UBC.
Visit Appraisal Institute of Canada for complete information on the AIC Education Program.