Program Itinerary
Proposed itinerary (subject to change)
Day 01 : Bangalore
16th January
Upon arrival at Bangalore airport, meet and assistance by our office representative, followed by transfer to hotel for check-in. Proceed to visit Commercial Street or Malleshwaram Market . Back to the hotel for overnight stay.
Day 02: Bangalore to Mysore (150km / 3hrs)
17th January
Morning post breakfast transfer to Mysore. En route visit Srirangapatnam (16km from Mysore) – the island fortress of Tipu Sultan and the early capital of the Mysore Wodiyars – Here you will find monuments such as Tipu's mosque with its twin minarets built in 1787, Tipu's Summer Palace (known as the Daria Daulat Bagh) built completely on wood and converted into a museum that houses some fantastic artefacts and paintings related to Haider Ali and Tipu Sultan, and  the Gumbaz where lie buried Tipu Sultan, Haider Ali and others of the royal family. Continue towards the colourful Devarajan Market 'a must visit for everyone'. Arrival at Mysore and check-in at your hotel .
Overnight stay.
Day 03 : Mysore
18th January
After your breakfast. This morning proceed on a sightseeing tour to get a feel of this charming city as you past some lovely colonial structures and old local monuments. Visit the Maharajah's Palace, one of the most beautiful buildings in India. Inside, you will find a kaleidoscope of stained glass, beautiful carved wooden doors and mosaic floors.
Visit Chamundi Temple, overlooking Mysore from the 1062 metre summit of Chamundi Hill. At the top of the 1,001 steps up Chamundi Hill, lies a 12th century temple that houses a golden statue of Chamundi – the Hindu goddess worshipped by the Maharajas. Later on, you will experience a heritage Tonga ride (horse-drawn chariots). These vehicles ruled the streets in their heyday and now are used to ferry around the heritage buildings and provides insights into the local culture.
Back to hotel.
Day 04: Mysore – Kabini (70 Km / 2 hrs )
19th January
After your breakfast at the hotel, drive to the Nagarahole National Park.
On arrival, check-in at your hotel the Kabini River Lodge situated in the southern fringes of the Nagarahole National Park. This lodge has colonial style architecture with modern amenities. This late afternoon, proceed for a Jeep Safari into the Nagarahole park, accompanied by experienced drivers and Naturalists. This area boasts of the highest density in Asiatic wildlife and is considered one of the best places in India to view the Asiatic elephants and gaur.
Dinner and overnight stay. (Full Board)
Day 05: Kabini National Park
20th January
Breakfast at the hotel. Early morning, cruise through the serene backwaters of the River Kabini on a motor boat viewing Aquatic Bird and other wild life on the water intent on their morning catch. Return back to your hotel and again later this afternoon, enjoy a Jeep Safari into the Nagarahole park, accompanied by experienced drivers and Naturalists. Rest of the day at leisure to relaxe in the serene area.
Dinner and overnight stay.
(Full Board)
Day 06 Kabini – Coorg (130km / 3.5 hrs)
21st January
This old-world charm station is filled with exotic Coffee plantation, amazing food and amongst all a persistent living culture.
This afternoon, take the guided tour of the 300 acre working Coffee and Spice plantation on foot. Walk through the tranquil greens of the estates and learn the difference between the Arabica and Robusta coffee. Tonight you may opt to enjoy a dinner with traditional Coorg delicacies from the home-styled restaurant in-house. Once the sun sets, this restaurant morphs into a spectacular setting, where no meal is complete without a portion of their signature Kodava pandhi curry (spicy pork curry) etc…
Overnight stay at hotel. ( full board)
Day 07 Coorg
22nd January
This early morning, you can opt for any activities offered by the hotel: A Cycle village trail to discover the environs and interact with local people. Stroll down in the bazaars, observe the rhythms of the daily life and sit on the bank of the Cauvery sipping some special teas. Or for wildlife enthusiasts and nature lovers, starting off your day with an early morning Bird watching walk on the vast grounds of the resort.
Consider how Coorg alone accounts for over 25% of all bird species in India, and you get an idea of why birding at Coorg is so popular.
Afternoon Visit Dubre Elephant sanctuary. The camp is a project undertaken by forest department and Jungle Lodges and Resorts Ltd. This camp has plenty of elephants which are trained under naturalists who will also explain the various aspects of Elephant history, ecology and biology. The visitor can not only observe and learn but also participate in various activities involving Elephants. ( full board)
Day 08: Coorg – Nileshwaram (140km / 3.5hrs)
23rd January
Breakfast at the hotel and check-out. This morning drive south to the coastal town of Nileshwar. Soak into the local North Kerala culture and fill your lens with its everyday life played out in bright colors, with a vivid juxtaposition of ancient and modern against a backdrop of intricate architecture On arrival check into your hotel situated in a hidden secluded beach. Capture the sunset over one of the most enchanting beaches of Kerala. Overnight at the hotel.
Day 09: At Nileshwaram – Backwaters Houseboat Excursion
24th January
Post breakfast drive to the fishing village of Valiyaparamba and embark on a scenic boat cruise in a traditional 'kettuvallam' (houseboat) to capture the most scenic Backwaters stretches in Kerala. E
Enjoy a sumptuous Keralan meals served on board. Keep your camera ready while strolling in the narrow canals surrounded by the coconut groves, searching for egrets, flamingos, and many other bird species that live on this island.
Return to your hotel for your overnight.
Day 10: Nileshwaram to Kannur (55km / 1.5 hrs)
25th January
Rise early for a photo shoot on the beach and encounter fishing boats to empty out the day's catch…Breakfast and check-out. Drive to another coastal beach town, Kannur, cradle of ageless folk arts like Theyyam and folk music. Proceed to a Temple nearby and experience this ritual dance of Theyyam, made with rare costume and lively footwork. The Kannur region is the best place to see this spirit-procession. The dancer transforms himself to the concerned deity with the help of his extreme devotion and the rhythmic chanting of mantras. Get into the spirit and capture the brilliant colours with your camera of these folk dancers.
Follow with a visit at the Kerala Dinesh Beedi Co-Operative, the Kannur region is known for the manufacture of beedis, those tiny Indian cigarettes deftly rolled inside green leaves. A skilled individual can roll up to 1000 a day! Continue your insider journey at the Kerala Folklore Academy. See vibrantly coloured folklore costumes up close and sometimes catch a performance.
Finish your tour with a stop at the Loknath Weavers' Co-operative, established in 1955, this is one of the oldest cooperatives in Kannur and occupies a large building busily clicking with the sound of looms. You can stop by for a quick tour and visit the small shop here that displays the fruits of the workers' labours.
Check into the hotel ; Overnight stay.
Day 11: Kannur to Calicut (95km / 2-2.5hrs)
26th January
Breakfast. Check-out and drive to Calicut. On arrival check in at the resort. Calicut Also known as Kozhikode is where Vasco De Gama has landed in 1498. Today this port town is known for its historic sites and warmth of the people. Rest of the day free at the hotel.
You can enjoy the hotel facilities or indulge on an Ayurvedic Massage – Payable Directly. One can also drive down town and see the Sweet Meat Street, one of the busiest shopping streets in Calicut. Favor yourself with the "Kozhikodan Halwa" a specialty of the region and a very popular dessert/sweet. Proceed to Beypore and watch the Uru Making ( also called dhow) Then visit Kappadu Beach where Vasco De Gama has landed.
Back to the hotel for Overnight stay.
Day 12 : Calicut to Cochin Via Guruvayur (70 Km / 2.5 hr)
27th January
Early morning capture the sunrise at Kappad Beach. Afternoon drive to Cochin ; Enroute visit Guruvayur 'the Abode of Lord Krishna'- visit to Elephant camp at Punnathur Kotta. The Guruvayur Temple maintains a unique elephant sanctuary, the only one of its kind in the World. It has 51 elephants now. These elephants are the offerings of the devotees to the Lord. A large number of pilgrims and tourists visit this fascinating spot every day.
Drive to Cochin; Check into the hotel by late evening
Overnight stay at hotel.
Visit to Vypeen fish landing point , Photography at Broadway market etc ( if time permits)
Day 13 : Cochin
28th January
Breakfast at the hotel. Today you will Experience Real life of Cochin during an Ethnic tour – start with the visit of the famous Chinese Fishing Nets of Cochin. The huge cantilevered Chinese fishing nets that droop towards the waters like over-sized hammocks, have become a hallmark that represents Fort Kochi on every postcard…
Next visit is at the St. Francis CSI Church, the oldest European church in India built in 1503, where the Portuguese explorer Vasco de Gama was originally buried and the Santa cruz Basilica, one of the finest and imposing churches in India. Then take a tuk tuk– the most popular mode of transport among the localities Go along with your local tour and stop at the Dhobi Khana (laundry station), once throbbing with activity, it is now a picture of slow extinction.
Continue through the small streets of Mattanchery, and arrive at the Fruit market on Palace road where locals get a variety of fresh and organic produces at bargains prices. Don't miss a stop at the Spice Market, where exotic odour of the finest ginger, cloves, cardamom, turmeric and pepper emanate from the spice warehouses lining the street and fills it.
Take a pause with a refreshing tea at one of the tea shops where you get the "one meter" tea. There is now an opportunity to interact with a Brahmin Family. The Brahmin are the highest of the four Hindu castes, made up of priests and scholars of Vedic literature and their traditional occupation is to conduct rites at marriages, births, deaths and other auspicious occasions. Then you will be invite to getting squiggly lines drawn on your hands… This ritual called Mehndi arts holds plenty of cultural significance in Indian traditions and is one of the most important pre-wedding ceremonies in their marriages.
Later visit the Jewish Synagogue at the heart of what is locally called the Jew Town, and finally the Dutch Palace with its beautiful mural paintings from the 17th century.
Overnight stay.
Day 14: At Cochin
29th January
Breakfast at the hotel. A Day complete at your disposal for local visits and shopping.
Overnight stay.
Day 15: Departure Transfer to Cochin Airport (45 min to 1 hr)
30th January
Breakfast at the hotel. In time, transfer Cochin airport for your flight back home.
End of Services.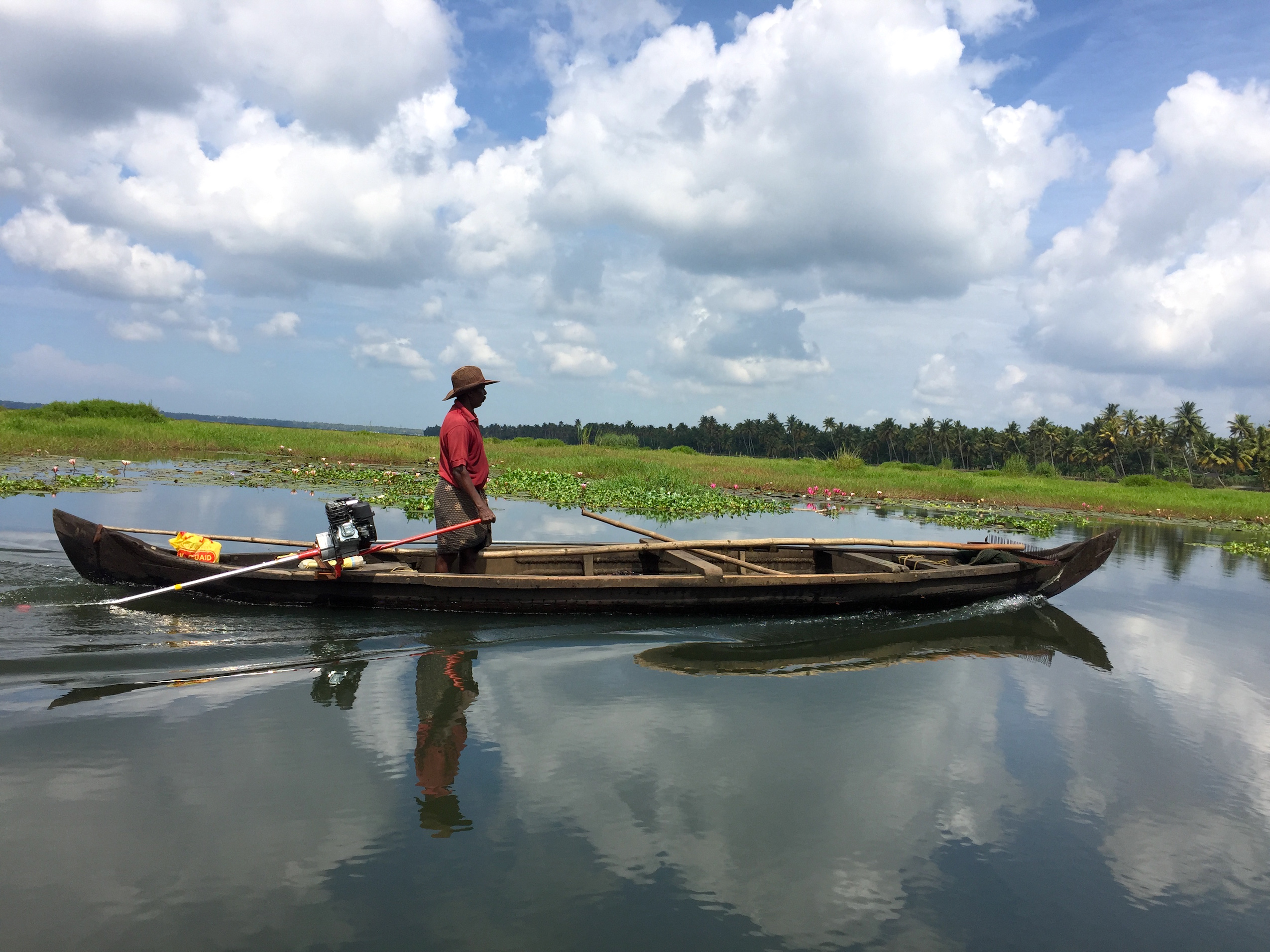 Photo above provided by Finisterra Travel