Accommodations
Accommodations are subject to change. (based on 2019 tour - subject to change for 2020 tour)
Casablanca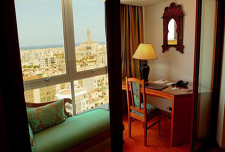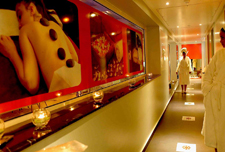 This 4-star hotel welcomes you in a very friendly atmosphere. Enjoy the personalised service as well as the high standing of the hotel.
Benefit from a tremendous location, close to the city centre and an unforgettable panoramic view over the ocean and the Hassan II Mosque.
Take a dip in the swimming pool, unwind and sunbathe outdoors. Everything has been designed for your comfort and well-being.
Idou Anfa Hôtel & Spa features a gym and a spa with a sauna, a hammam and a range of body and beauty treatments.
Chefchaouen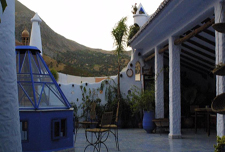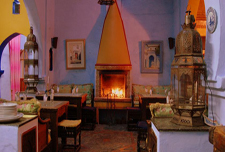 Split between two houses a few steps from each other along a narrow stone alleyway, Casa Hassan comprises of 20 individually decorated guest rooms, each with a sitting area, fireplace and en-suite bathroom with shower. All have central heating and air conditioning, and are blissfully free of telephones, TV's and internet. A large salon with comfortable armchairs surrounding an enormous fireplace adorns the first courtyard in the main house (Dar Baibou), and both have beautiful roof terraces with fascinating views over the city and mountains. One riad also houses the popular Casa Hassan restaurant offering excellent Moroccan cuisine, the other (Dar Baibou), a fabulous Hammam.Casa Hassan opened in 1987 as one of the first riad guest houses in Morocco
Fez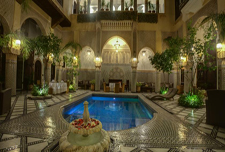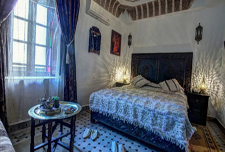 Riad Salam Fes is conveniently located next to Batha square as well as other historical sites of Fez city (within walking distance from the historic sites of the Medina and the famous Bab Boujloud medina gate.) This remarkable riad in Fes' medina was built at the beginning of 20th century and was recently restored by craftsmen who managed to recapture the glory of its jaw-dropping interiors.
Demnate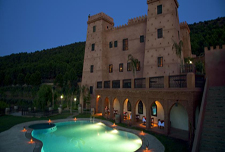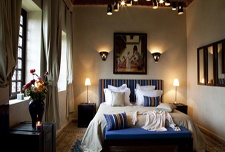 Located in Demnate, Kasbah Illy offers a hammam, an outdoor swimming pool and a terrace with panoramic views of the Atlas Mountains, just a 15-minute walk from the natural bridge of Imi'N'Ifri. There is also a spa centre.
Marrakech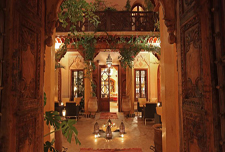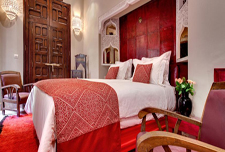 Since opening in 1946, La Maison Arabe has achieved a legendary status in Marrakech.
Ideally situated in the medina, the hotel includes 26 rooms and suites, most with private terraces and fireplaces, 3 restaurants, a piano bar, a world-famous cooking school (open to guests staying at the hotel or elsewhere in town) as well as a new spa including a traditional hammam, where natural products from the region of Marrakech are used.
Guests at La Maison Arabe have a choice of swimming pools. One can relax at either the heated pool in the hotel's garden patio, or at the pool located at our spectacular Country Club, 15 minutes away by complimentary shuttle.
Walking through the hotel's flower-filled patios, one can admire the traditional Moroccan craftsmanship (tadelakt walls, chiseled plaster, cedar wood ceilings) that has created a refined, exotic and serene atmosphere for our guests.