Northern India Photography Tour
Led by award winning photographer, Wayne Kaulbach, you will learn about and photograph Indian culture, landscape, architecture, and food.
India is like no other country on Earth; inspire your senses as you photograph its beauty and its people. This intimate and engaging photography tour will open your eyes, your heart, and your soul to the charms of India. Take your travel photography to a higher level through one-on-one coaching with your instructor, group critiquing, and hands-on practice with Langara College instructor, Wayne Kaulbach. Photographers and non-photographers are welcome.
Tour highlights
Visiting the golden sand dunes and living fort of Jaisalmer
Exploring the massive Mehrangarh Fort complex and its museum collection
Discovering the by lanes, exquisite havelis, and pale indigo walls of Jodhpur on a guided walk
Capturing the scenic landscape and experience a rural train ride in Deogarh
Marvelling at the unparalleled beauty of the 15th century multi-spired temple set in Ranakpur
Capturing the different moods of Udaipur – its tranquillity on a boat ride on the Lake Pichola; its beat and bustle and its legacy on a city tour
Listening to the fascinating stories of Taj Mahal's creation from our expert guide; and get some magical shots in the glistening rays of sunrise and sunset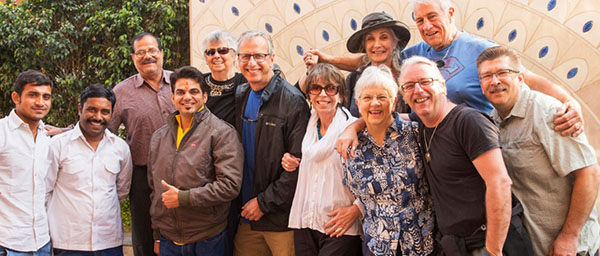 India Tour 2018 group photo