Northern India Photography Tour
Rajasthan is the crown jewel of India's many states. If you are looking to explore India, this is the place to start. Travel from India's prettiest city, Udaipur, through Jodhpur and Jaisalmer's golden fort on the edge of the Thar Desert, and on to Jaipur, finishing up with the marbled magnificence of the Taj Mahal.
India is like no other country on Earth; inspire your senses as you photograph its beauty and its people, spending approximately four days in each location. This intimate and engaging photography tour will open your eyes, your heart, and your soul to the charms of India. Take your travel photography to a higher level through one-on-one coaching with your instructor, group critiquing, and hands-on practice. Prepare to be amazed!
Trip Highlights
• Learning about photography techniques with award-winning photographer, Wayne Kaulbach
• Immersing yourself in the vibrance of Rajasthan
• Sending your camera into overdrive with the vast subject of Rajasthan – people, forts, palaces, lakes
• Visiting the Blueish city of Jodhpur
• Enjoying the traditions of Rajasthan
• Soaking in the astonishing beauty of the Taj Mahal – one of the world's most iconic wonders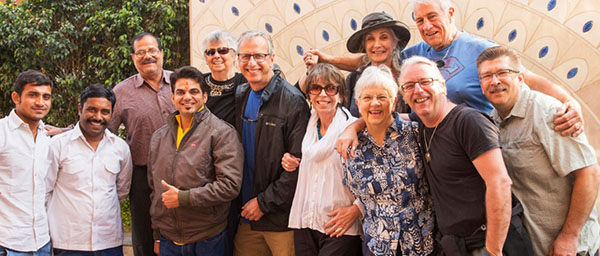 India Tour 2018 group photo