Accommodations
Haida Gwaii Eco – Photography Tour Accommodations
(Currently provisionally booked for our group, but subject to change)
1 night at Sandspit Inn, Sandspit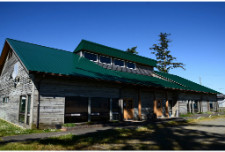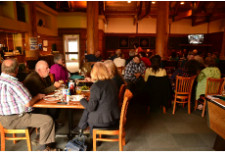 Sandspit Inn offers the perfect location to relax and unwind just a few steps away from Sandspit Airport (YZP). Enjoy the comfort of your spacious fully appointed suite. Take a quick stroll to our excellent restaurant or unwind in an inviting pub with occasional local music.
Sandspit Inn is perfectly situated to ensure quiet enjoyment of the local area while maintaining the convenience of modern comfort. Bright sun light, spacious living spaces, comfortable bedrooms, warm and inviting comfort, TV and private baths are just the start of your experience visiting Sandspit.
2 nights at Floating Lodge, Gwaii Haanas National Reserve and Heritage Site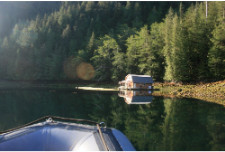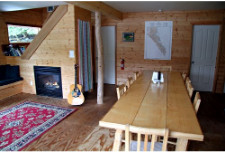 Nestled in a small cove in Crescent inlet right on the north edge of Gwaii Haanas and accessible only by boat or plane, our floating lodge is a truly unique wilderness retreat.
Lodge Details
8 guest bedrooms. 4 rooms have "double under and single over" bunk beds , 2 rooms have a queen-sized bed and 2 rooms have 2 single beds.
Large sitting area with a 14-person dining table, gas fireplace, full kitchen, covered deck and spectacular view.
Hot and cold water bathroom with a flush toilet. No shower.
1 night at Rose Harbour Guesthouse, Gwaii Haanas National Reserve and Heritage Site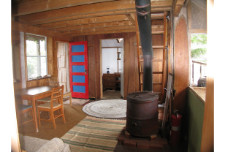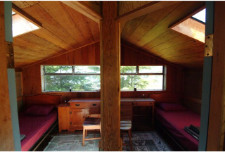 Rose Harbour is the site of an historic whaling station.  Allow yourself to be guided through ancient Haida village sites, bird colonies, protected tidal meadows and exposed west coast beaches. Allow us to share our local knowledge from living in Rose Harbour and close to nature since 1983. From ocean floor to mountain top. Nature pure to your hearts desire. 
Accommodation is in handcrafted rustic double rooms with spectacular views. No electricity and an outhouse, but yes, we do have hot showers and a stargazer's outdoor bathtub. Our gardens will satisfy more than just your palate.
2 nights at Spruce Point Lodge, Queen Charlotte, Graham Island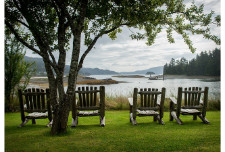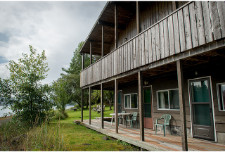 Revel in the sounds of gently-lapping waves and aquatic birds while enjoying a waterfront view from the expansive deck of the Spruce Point Lodge. Each guest room features a private bathroom, TV and WiFi plus a private deck entrance. Breakfast is delivered to your room every morning where you can enjoy eating in your cozy quarters or on the deck while you watch the sun rise over your lovely ocean view.
2 nights at Hiellen Longhouse, Naikoon Provincial Park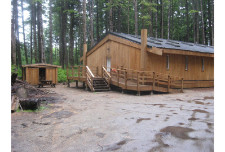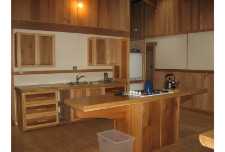 Enjoy the comfort of your own Haida Longhouse nestled on the northern tip of the spectacularly beautiful Islands of Haida Gwaii. Surrounded by designated park land, these Haida owned and operated longhouses offer an unforgettable outdoor adventure.
Our Haida longhouse village is designed to give you a truly unforgettable experience that will bring you awareness and understanding of the interconnection of all things. Come unwind with us and enjoy the beauty that is Haida Gwaii.