Testimonials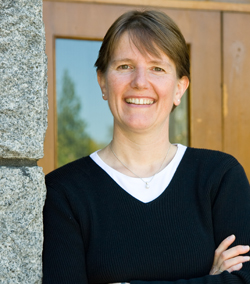 Anja Lanz
UBC Bachelor of Applied Science (Engineering Physics), May 2009
Langara College Arts and Science (Engineering), Graduation with Distinction, 2001-2003
I knew for sure that I did not like to enroll into my first year at university – because it was too big of a jump at the time. I just was not ready for the large class size and the intense campus life. Luckily, I was already familiar with Langara's Engineering Transfer Program, which was the perfect solution for me. I really enjoyed Langara's fantastic teachings which prepared me very well to make the transition from grade 12 courses to University. The smaller class size allowed for more interaction with classmates. After transferring to UBC, I found the pace of teaching much faster but, again, Langara equipped me with a solid math and physics background which enabled me to bridge this transition. When finally at university, I noticed some students were not as well prepared as I was for the physics and math material. This observation confirmed that Langara's curriculum is well designed and the covered topics well chosen.

Marco A. Turcios
MSc student in Mechanical Engineering (UBC), 2009
BSc student in Engineering Physics, Mechanical option (UBC), 2009
I had been out of school for about three years when I decided to begin post-secondary, and I wanted a smaller campus where I could get a good education while reacquainting myself with academic life. I had heard good things about Langara College through friends, and after reviewing their Engineering Transfer Program decided to register there. I was pleased the with level of quality of instruction I received at Langara, and in particular enjoyed the individual attention professors could give with smaller class sizes and the competitive tuition rates. The ease of transferring from Langara to UBC was incredible, and the solid foundation of skills and knowledge I acquired at Langara have helped me to succeed in my undergraduate degree in Engineering Physics and go on to graduate-level studies in mechanical engineering.
I would definitely recommend Langara's Engineering Transfer Program to anyone who is looking for a more affordable alternative to jumping right into a larger university without sacrificing quality of education. From conversing with my peers at university I found some courses at Langara to be better taught than their equivalent at larger institutions.

Wai Kit Leung
Audio Acoustic Engineer, Nokia
Although I was a top student in Hong Kong, I was new to Canada and Vancouver. I thought it would be difficult to get admitted directly to UBC and I knew Langara College had a good reputation. I really enjoyed the small classes, the easy accessibility to faculty, and it was much more affordable than UBC. I graduated with distinction from UBC with a Master of Engineering and Bachelor of Applied Science.