W49 Magazine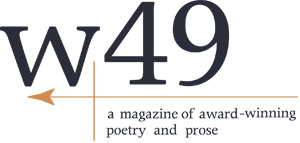 Be Provocative. Write Now.
W49 Magazine features the very best creative nonfiction, short stories and poetry submitted to the annual Langara College Writing Contest by current and former Langara students. All winning entries are published in the magazine along with a wide range of "honourable mentions."
W49 Magazine is edited and administered by the Department of English. 
The Langara Writing Contest is now closed.
The contest is open to all Langara students, past and present. Students may submit entries in any or all of the following three genres. The deadline for submissions for our next issue was May 11, 2021. Two prizes ($100 for 1st place and $50 for 2nd place) will be awarded for each genre:
poetry
short fiction/graphic short fiction
creative non-fiction/commentary
In addition to the prize-winners, many of the deserving entries will be published in W49 Magazine, which will be released in the fall of each year, and which will be available at the Langara Bookstore. Back-issues of W49 are available as free PDFs in the sidebar to the right.
Submission Guidelines:
A single entry may include up to 5 poems, one short story AND one creative non-fiction work not longer than 2,000 words
Learn more about the Langara Writing Contest. 
---
Past W49 magazine issues
Previous Writing Contest Winners
2018-19 Winners
Congratulations to the Winners of the Langara Writing Contest. Many thanks to all who submitted!
Fiction
1st: "

Me, the Soul of My Dead Turtle..." – Simon Lam

2nd: "

Amos' Roommates" – Yuko Kojima

Honourable Mentions:

"For Mother" – Brydon Saukarookoff

"The Trip" – Philip Beattie
Creative Non-Fiction
1st: "

Singing the Body Electric" – 

Will Dansereau

2nd: "

Why I Became a Mormon" – 

Joshua Rae

Honourable Mentions:

"

Hope Knows Better" – 

Evelin Rodrigues da Silva

"

Ms. Dodgy, Usual(ly) Suspects" – Yuko Kojima
Poetry
1st: "

An Elegy to the Peach Tree" – 

Mary Zhu

2nd: "

House Fire" – Kirra Little

Honourable Mentions:

"

Gliding in Circles" – Yuko Kojima

"

Coquihalla" – Megan Yeomans

"

Matryoshka" – 

Mary Zhu

"

Drowning" – Kirra Little