W49 Magazine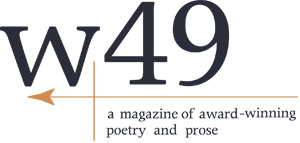 W49 Magazine features the very best Creative Nonfiction, Short Stories and Poetry submitted to the annual Langara College Writing Contest by current and former Langara students. All prize winning entries are printed, along with a wide range of "honourable mentions."
W49 Magazine is edited and administered by the Department of English. Every year, the design, illustration and layout of the magazine is the responsibility of a student in the Publishing Program.
Learn more about the Langara Writing Contest.