Travel Details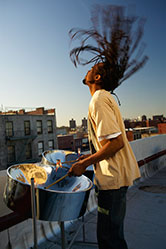 Program Fee $4,250*
Inclusions
Flights
Barbados to  Dominica
Dominica to St Lucia
 Accommodation
30 nights accommodation, 10 nights on each island
Barbados: double occupancy dorm rooms at McGill University Bellairs Research Institute in Holetown, located on a white sand beach in the Folkestone Reserve
Dominica: 6-bed dorm rooms in the Springfield Guesthouse at the Archbold Tropical Research & Education Centre, a former plantation up in the hills
Rodney Bay, St Lucia: studio, one-bedroom and two-bedroom apartments near Rodney Bay's gorgeous beaches and the town of Gros Islet in the north
Balenbouche Estate, St Lucia: a collection of cottages on the Balenbouche Estate near Soufriere in the south (two beaches a five-minute walk away)

See where you could be staying: 
Meals
Barbados: welcome dinner at Oistins Fish Fry
Dominica: 10 breakfasts, 10 lunches, 10 dinners
St Lucia: 5 breakfasts, 1 lunch, and 5 dinners
limited kitchen facilities available in Barbados and St Lucia
Transfers
Airport transfers for students arriving and leaving on recommended flights to Barbados and from St Lucia
Aiport transfers for inter-island flights
Ground transport for educational activities
Educational Activities
activities specified in the final course outline 
Exclusions
Flights to Bridgetown, Barbados from Vancouver and from Vieux Fort, St Lucia to Vancouver
Tuition and textbooks
Travel and medical insurance
Supplementary services such as, but not limited to, any cost incurred en route to and/or from the destination
Meals or beverages not specified above; optional meals provided by accommodations for purchase at Bellairs in Barbados (breakfast $8-10, lunch $11, dinner $25-$27.50) and at Balenbouche in St Lucia (lunches $15) - must be ordered in advance of departure
Local excursions and admission fees for activities not specified in the final course outline
Telephone calls, tips, laundry, items of personal nature and/or personal services not specified as being included
Snorkeling equipment rental (students may elect to bring their own)
*Program fees are subject to change due to changes in the program itinerary or uncontrollable circumstances such as fluctuating exchange rates.  All fees are non-refundable except for the cancellation of the program by Langara College.  Langara College reserves the right to cancel any program without penalty or liability.
Scholarships and Loans
Follow the links listed here for more information:
Apply for a student loanfinaid@langara.bc.ca or 604-323-5376