Overview
This program is not offered this year. Please check back for future opportunities.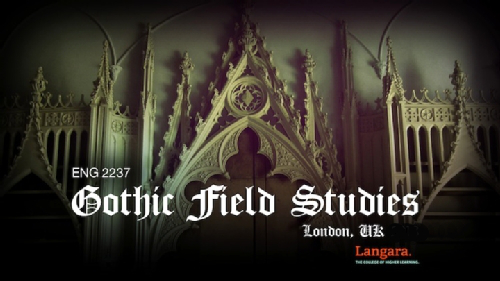 Experience Dark Narrative on the Dark Island! Now worth six credits!
Study Gothic film and literature *and* the History of Tragedy with Karen Budra and Jacqueline Weal as you tour theatres, Gothic sites and events in London, Whitby, Edinburgh & Manchester in May 2015. 
See where Count Dracula jumped off the Demeter in the guise of a wolf in Whitby Harbour. Visit the 18th century castellino, Strawberry Hill, where Horace Walpole invented the English Gothic and words like "gloomph." Walk through Highgate Cemetery, where Lucy Westenra was staked by Van Helsing.   Discover the haunted city beneath the streets of Edinburgh. Tour Jack the Ripper's London. Pay homage to Factory Records in Manchester, home of bands like The Smiths, Joy Division and Happy Mondays. See plays at Shakespeare's Globe & a West End theatre; experience Medieval Mystery plays in the ancient city of York.
Cost: $4.365.00 (reduced from $4865.00!) plus tuition & fees, tax & airfare. Scholarships available.  Visit www.langara.bc.ca/student-services/financial-aid for details.
Dates:  May 1-7 Langara, May 11-30, UK
Prerequisites: One term of first year, college level English
For more information, contact:
| | |
| --- | --- |
| Karen Budrakarbudra@langara.bc.ca604.323.5694Room A201b | |
Apply

›