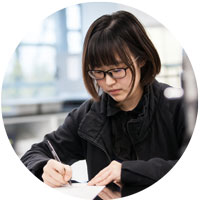 We're here to help.
We have a wide range of services to help you succeed at Langara. Many of our student and campus services have moved online for the health and safety of our community, but we are more committed than ever to supporting you virtually. Reach out to connect with us. 
Please note that buildings may be open for limited in-person classes; however, students may only access the services listed below during the hours stated.
Services that are open
Food services: Starbucks will be opening on July 5 (Monday-Friday, 8:30am–3:30pm), serving their regular menu including beverages and an assortment of sandwiches and salads. Full food services including Tim Hortons, Subway and Chartwells in the cafeteria will resume Sep 7. 
Labs, special-purpose classrooms, and computer labs: L Building Computer labs (L103, L104, L108 & L109) Monday to Friday, 8:00 am–10:00 pm and weekends, 8:00 am–7:00 pm ; A Building Mac lab (A110), Monday to Friday, 2:30 pm–10:00 pm and weekends, 8:00 am–7:00 pm (Mac lab is closed during summer term).
Study Spaces (L Building only): 

The silent study

 room (L226) will be open for student use during regular hours of operation. Note: 

the Library remains closed; therefore, to access the silent study room, please go through the second floor concourse (adjacent to L224) of the Library building.

Community Cupboard: The Langara Community Cupboard provides one week's worth of non-perishable food items per student per week. Students can access the Community Cupboard through the Bookstore Monday to Friday from 10:00 am–3:00 pm. The Community Cupboard is not open on weekends, statutory holidays, or during campus closures. Students are asked to complete the Community Cupboard Online Form, before accessing their bag of non-perishable groceries.
Health Services: Open. The medical clinic at Langara College is available for booked appointments Monday–Friday. We will continue offering healthcare services to the Langara College community. Appointments with our doctors and/or nurses are primarily by telephone or Zoom. If you have any questions about COVID-19, or other general health concerns please call us between 8:30 am–12:00 pm and 1:00 pm–4:00 pm. Please call us at 604.323.5256 to set up an appointment, or email us at healthservices@langara.ca.

LGBTQ2+ space: Room B152 is designated as the temporary dedicated safe space for LGBTQ2+ students to visit and study.

Bookstore: Online shopping and delivery service options available. The Bookstore is open Monday-Friday from 10:00 am–3:00 pm. Store hours and safety protocols.
Printshop: Please email printshop@langara.ca for printing requests. 
Makerspace: The Makerspace lab will not be open to in-person access, but will be outputting all submitted user files and preparing the resulting items for pick-up on campus. Please read the file submission process.
Cycling facilities (secure bike cage): Open. Students may purchase an annual access card at the Bookstore for $5. Learn more.
EV charging stations: Open on Level P1 of the Library underground parkade.
Services that have moved online (offices closed)