Programs
Mandarin for Adult courses are offered four times a year. Each course is 10 weeks in length. The eight levels of adult Mandarin courses are designed to help students progress from an introduction to pinyin to advanced daily conversation. Although functional conversation is the focus of this multi-level course, attention to grammar, reading, writing and listening are also emphasized. 
*A 15% discount will be applied to registrations for those who have completed three or more Adult Mandarin courses. 
Program Dates
Courses begin: Sep 16, 2023
Registration via 604.323.5322 will open Jul 19, 2023
Mandarin for Children courses consist of 16 Saturdays, offered two times a year, beginning in either September or February. Students who are four years and older will be assigned to the appropriate class during registration.
*A 10% family discount is available for the third course registration (adult or children) from the same family in the same semester.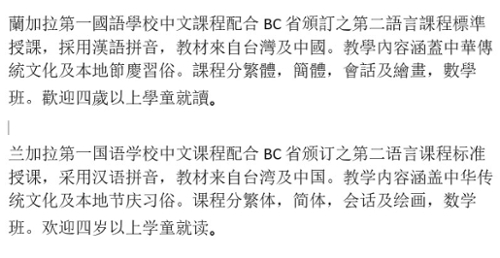 Program Dates
Courses begin: Sep 09. Registration is available via 604,323.5322 till Sep 01, 2023. Onsite registration available on Sep 09 & 16.
Courses scheduled dates: Sep 09/16/23, Oct 14/21/28, Nov 04/18/25, Dec 02/09/16, 2023. Jan 06/13/20/27 2024.