Expressive Arts Therapy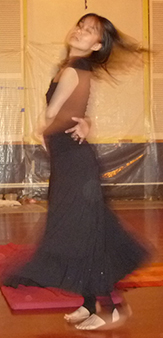 The helping profession is constantly seeking ways of knowing and responding to human suffering and passion. The premise of our work is that art and its modes of expression are a way to explore and support psychological transformation through the imagination and the act of shaping and sharing.
At Langara College, we offer an integrative arts-based therapy training program with an emphasis on theatre, drama, movement, visual arts, and creative writing. Established in 2004, the program is the first of its kind in BC.
Education takes place within small, optimal groups of 12 students a class, and students move through the program together in order to maintain a high level of education and a strong personal support network.
The program is well balanced, providing academic and studio-based learning, as well as supervised practice in the community.
Practicum: The program provides a wide range of practicum experiences and offers students full support in finding practicum placements. Students receive weekly Expressive Arts Therapy supervision in-class and can get more on-site. Thanks to a high level of therapy service in their practicum placements, we are fortunate to continuously receive requests from the community for more students.
College Certificate: Langara certificate programs are designed to provide students with the highest quality of education in their chosen field.
Learn more: Information Session & Introduction Workshop

All the photos on our website are of students in the program.