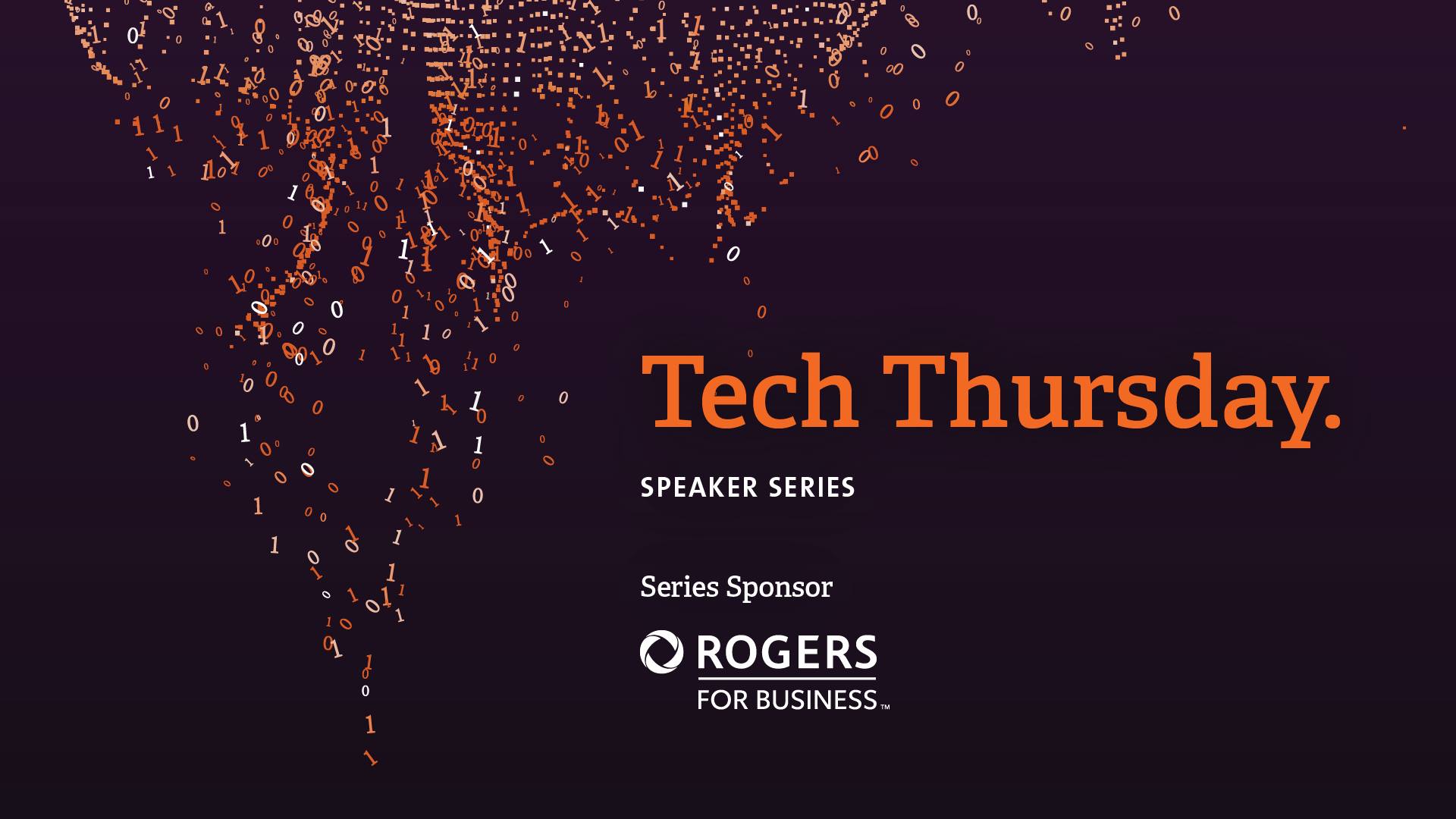 Tech Thursday is a series of monthly panels where industry experts will talk about a day in the life of their career, the position and skills required to do their work, and tips for students entering their company. A variety of job types, career paths, and future outlooks will be presented each month.
Series Sponsor    

Thank you to all the panelists, students, faculty, and staff who participated. A special thank you to Rogers for Business, our Series Sponsor, for supporting this event series. Tech Thursday will return in the fall semester starting on September 30, 2021. Stay tuned for updates.

Past Tech Thursday events.
Tech Thursday: Careers in Data Analytics
Hear from data analysts, business analysts, and data scientists about their career paths
March 25, 2021 | 4:30 pm–6:00 pm | Virtual event via Zoom
Tech Thursday: Careers Working with the Cloud
Hear from experts in engineering, operations, data, and cybersecurity
February 25, 2021 | 4:30 pm–6:00 pm | Virtual event via Zoom
Tech Thursday: Careers in DevOps
DevOps is a set of practices that combines software development and IT operations. 
January 28, 2021 | 4:30 pm–6:00 pm | Virtual event via Zoom
Tech Thursday: AI and Machine Learning
November 26, 2020 | 4:30 pm–6:00 pm | Virtual event via Zoom
Tech Thursday: Careers in Data Science/Data Analytics
October 29, 2020 | 4:30 pm–6:00 pm | Virtual event via Zoom
Tech Thursday: Jobs in Tech (hear from Tech Recruiters)
September 24, 2020 | 4:30 pm–6:00 pm | Virtual event via Zoom
Tech Thursday: Careers in 3D Technologies, in collaboration with the Langara Makerspace
February 27, 2020 | 5:00 pm–6:30 pm | Makerspace, Room A268
Tech Thursday: Careers in Web and Mobile App Design and Development
January 30, 2020 | 5:00 pm–6:30 pm | T Building Gallery
Tech Thursday: Careers in Information Technology & Cybersecurity
November 28, 2019 | 5:00 pm–6:30 pm | T Building Gallery
Tech Thursday: Careers in Data Science
September 26, 2019 | 5:00 pm–6:30 pm | T Building Gallery
Tech Thursday: Careers in Data Science
May 30, 2019 | 5:00 pm–6:30 pm | T Building Gallery
Tech Thursday: Careers in GIS
March 21, 2019 | 5:00 pm–6:30 pm | T Building Gallery
Tech Thursday: Careers in Software Development 
February 28, 2019 | 5:00 pm–6:30 pm | T Building Gallery
Tech Thursday: Careers in Computer Engineering
January 31, 2019 | 5:00 pm–6:30 pm | T Building Gallery