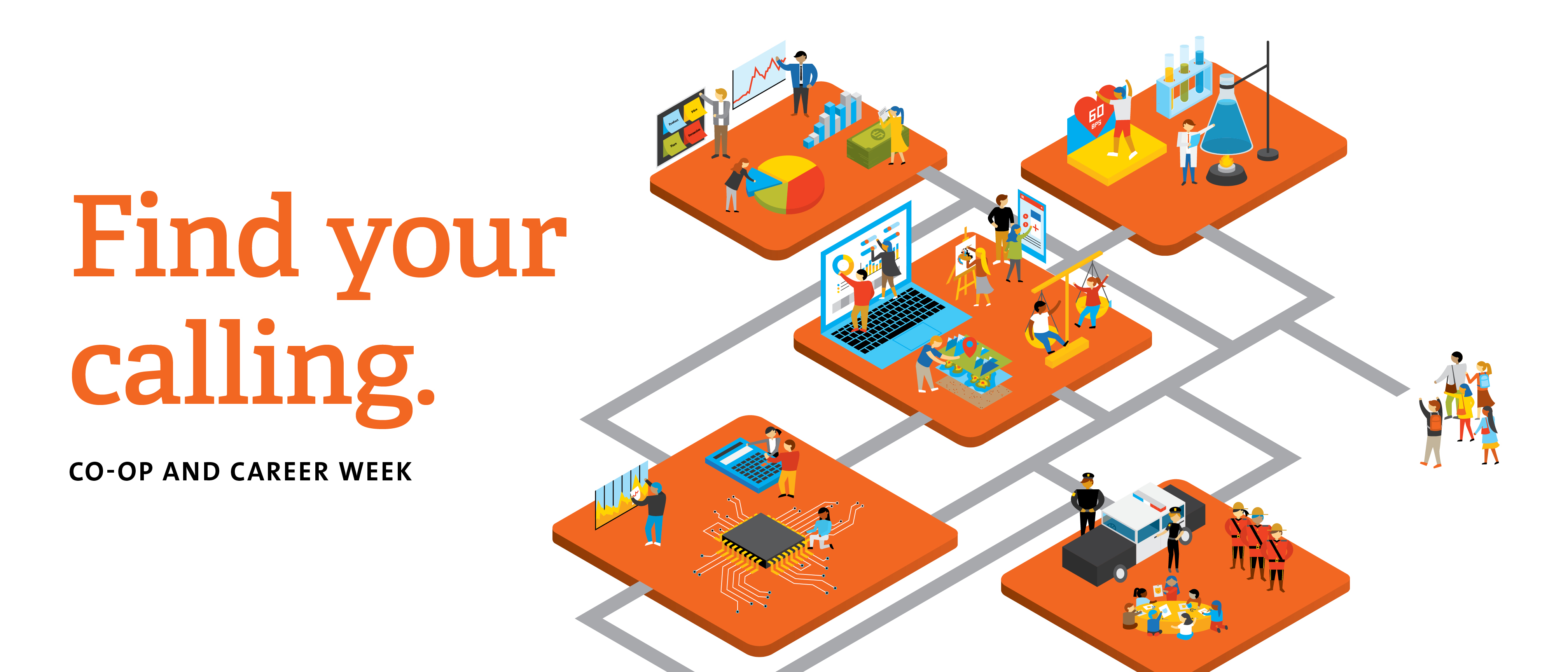 ABOUT CO-OP AND CAREER WEEK
Meet dozens of employers, expand your network, and get connected in your area of study and beyond.
GET PREPARED FOR CO-OP AND CAREER WEEK | MARCH 12, 2020
Get ready for Co-op and Career Week with Steps for Success. Let style experts and industry professionals help you put your best foot forward. At Steps for Success, you will have the opportunity to get professional dress tips from an image consultant, practice your networking and interview skills, get a resume tune-up, and get a LinkedIn headshot from a professional photographer.
EVENT SCHEDULE | MARCH 16–19, 2020
March 16: Human Resources Day – Hiring Tips, Strategies, and Industry Trends
March 17: Business Day – Marketing, Business, Accounting, Finance, Criminal Justice and a Career Fair
March 18: Innovation Day – Industry Innovators, and Entrepreneurship
March 19: Science Day – Physics, Chemistry, Biology, Bioinformatics, Data Science, Analytics, and Computer Science
ENTER FOR A CHANCE TO WIN A $350 TUITION CREDIT
Follow the steps below to enter. This contest is only open to Langara students currently enrolled and participating in courses.
Pick up a Student Program from the Co-op and Career Development Centre, C121 or from the Career Leader promotional cart in the A Building Main Foyer – Available starting March 2.
Attend three Co-op and Career Week events and complete the online survey – Available on March 2.
Drop off your completed prize form (in the Student Program) at a Co-op and Career Week event or in C121 by March 25.
Prize winner will be announced on April 1, 2020.
VOLUNTEER WITH US
Interested in volunteering at the event? Complete the Student Volunteer Application Form by February 25.
EMPLOYER INVOLVEMENT
Are you an employer, interested in attending our Career Fair on March 17? Complete the Exhibitor Registration Form. For further inquiries, please email career@langara.ca.