Overview
Recreation is about improving people's quality of life. It is a dynamic and diverse field that spans the public, private, and non-profit sectors. From health wellness to advocacy, recreation professionals provide leadership by creating positive environments for people of all ages to explore their potential, connect to community, increase health and wellness, celebrate cultural traditions, and live meaningful happy lives.
The Recreation Management Program is a degree completion program (third and fourth year of a bachelor's degree) for students who have a recreation diploma or the equivalent, and who are interested in pursuing careers in the Recreation Field. The program is flexible and student-focused and combines a solid foundation in management theory and practical knowledge with specialized courses in recreation.
The first two years of this program can be done through the Recreation Leadership Diploma Program.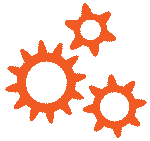 Loading...
Sign up for the Recreation Studies Newsletter to receive the latest information in the field of Recreation.
NOTICE: Admissions to Bachelor of Recreation Management on Hold for Spring 2021 and Summer 2021
The Bachelor of Recreation Management (BRM) degree is undergoing a review and the program will not be accepting new students for the Spring 2021 and Summer 2021 semesters. The program is still accepting students for the Fall 2020 semester, and current students will continue in the program with no course closures. This is only a temporary pause in admissions. The program hopes to start accepting new applicants for Fall 2021. We will provide a confirmed restart date as soon as possible. 
Students who are interested in the BRM degree should strongly consider registering into the Recreation Leadership Diploma Program.  By doing so they will be able to access BRM degree courses and can then progress into the BRM degree. Once the program admission re-opens diploma students can formally apply to transfer into the BRM degree program.  
Interested students should contact an Admissions Advisor or the BRM Coordinator to discuss options and application timelines regarding their goal of completing a Bachelor of Recreation Management. Students can also visit the BRM Course Scheduling Information Package to review the courses available and suggested schedules during this temporary admissions closure.
Apply

›