Study Online
Secure a recognized credential from a public Canadian college online from anywhere in the world, at a time that suits you!
Langara College Continuing Studies Advanced Project Management program is designed to provide students with the essential skills and knowledge to be successful project managers in any industry.
This online program consists of six courses which can be completed consecutively over 14 weeks or taken across a two-year period to fit your schedule and budget.
Completing this program helps you meet the requirements for a PMP® credential – a globally recognized certification. It will also give you the opportunity to build skills in this growing profession and connect with a network of other project management students across the world.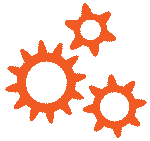 Loading...
What is Project Management?
Project Management is a professional discipline that involves the planning, organization, and integration of resources in order to meet quality standards, timeline expectations, and budget constraints.
Who Is this program suitable for?
This program is suitable for anyone who wants to learn to manage projects better. You do not have to be in a project management job, although many of our students are working as project managers, supervisors, or project coordinators. It helps to have experience working on projects in some capacity so that you can put the learning into context, but it does not matter which industry you work in.
How does this program prepare me for my PMP®?
The PMP® credential requires education in the form of a high school diploma or degree, 35 hours of project management training, at least 4,500 hours of project management experience, and an exam. Completing this course helps you meet these requirements. For example, the program provides more than three times the required amount of project management training, and the course content is regularly updated to match the current version of the PMBOK® Guide. We also provide guidance on studying for the exam.
How does the online study work?
The online learning in our program is 'asynchronous', which means that you can work whenever it suits you, rather than needing to be online at the same time as the instructors or other participants. The courses are accessible from anywhere with an internet connection.