May 29, 2023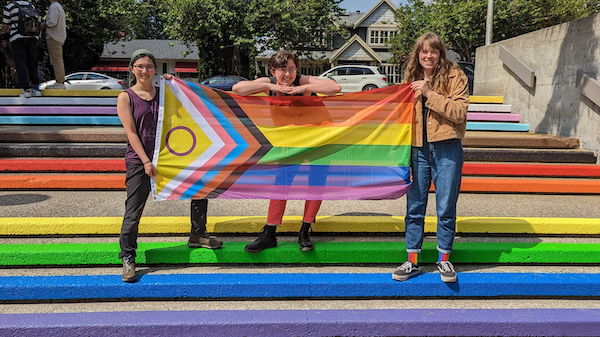 Vancouver, BC –  June is Pride Month and we wanted to share some of the events on and off campus this summer. Watch our social media channels for the special Pride avatar below!
Pride Flag Raising Ceremony
Date: Thursday, June 1.
Time: 9:30 am.
Location: In front of C building, by gym entrance.
We invite you to join us to raise snəw̓eyəɬ leləm̓ Langara's Pride flag. In partnership with the student club, Langara Genders and Sexualities Alliance (LGSA), we look forward to celebrating the Pride flag's permanent home on campus.
Vancouver Pride Society's 45th Vancouver Pride Festival
Sunday, August 6
12:00 pm–3:00 pm
Downtown Vancouver
Join in the fun at Vancouver's annual 2023 Pride Parade.
Langara College Library LGBTQ+ Reading List
The Langara College Library provides a curated list of titles in their library collection including non-fiction and graphic novel recommendations and films – all of which address the LGBTQ+ community, representation, and equity.
Resources
It's important to understand and recognize the contributions and sacrifices so many in the 2SLGBTQIA+ community have made. We invite you to visit the Pride Month and 2SLGBTQIA+ resources page for a collection of events, resources, podcasts, and much more to learn about this resilient and vibrant community. 
Langara College wishes everyone, but particularly our 2SLGBTQIA+ community, a wonderful Pride month and Pride season ahead!