Dec 4, 2013
Vancouver, BC - A new public art installation created by Langara's Fine Arts students will be mounted outside of the Langara-49th Avenue Canada Line station on Monday, December 9th. This is the third project produced through a public art initiative created in partnership with InTransit BC.
The piece, titled Little Shadow, pays homage to an iconic object that Vancouverites often carry around for refuge from the rain - an umbrella. Historically used to connote status (held only by kings, priestesses, or army generals), the umbrella has become a ubiquitous possession that is often tucked inside bags of public transit travellers. The piece imitates the shape of a large umbrella and borrows the layered shingles design from rooftops to convey the idea of shelter. The piece was conceived and constructed by students in the Public Art Studio Practice class in Langara's Fine Arts Program.
"I hope that viewers will have a chance to think deeper about the notions of shelter and boundary, and reflect on the various ways we protect ourselves from our environment, whether consciously or otherwise," said Jasmine Baetz, one of the student artists. "This project was a collaborative effort. We had to build all the different parts of the structure and think about how to fit everyone's ideas under--or in this case, into--the same little roof."
"Each year, Luke Blackstone's public art class produces a collaborative piece that represents the best of what we do in the creative arts at Langara," said Julie Longo, Langara's Dean of Arts. "This year the students focused on the very human experience of seeking shelter from the rain. I am consistently surprised and delighted by the work that this class produces. The results are as much a product of their individual personalities as it is their attempt to fashion together something meaningful and engaging."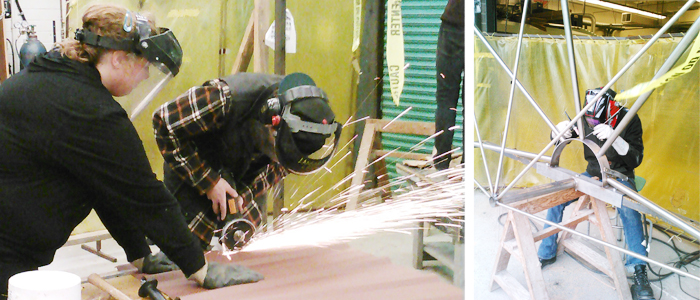 Little Shadow is made of welded stainless steel tubes and plates. The four sections of roofing include asphalt shingles on plywood, corrugated metal roofing, tarpaulin, and cedar shakes. All roofing materials are attached to a cedar lath substructure, using staples, screws, zip ties, and rope.
The students in the Public Art Studio Practice course who designed and fabricated the work are:
Jasmin Baetz
Julian Davis
William De Jeu
Andreas Perez
Alexander Zizka
Little Shadow will be featured at the Langara-49th Avenue Station for the next six months. The next public art piece, Going, Going...Green by Fine Arts student Jennifer Paulsen, is schedule to go up in June 2014. The College would like to extend its thanks to Canada Line's art coordinator Coleen Nemtin. 
Media Contact:
Sylvia Tan
Communications Officer
Langara College
604.323.5961 | stan@langara.bc.ca