Jul 31, 2013
The Langara College website was included in the top 15 exceptional educational sites list put together by the popular online design blog WebdesignerDepot.com.  It was one of only two Canadian institutions that made the list, which included big name schools such as New York University, UCLA, Stanford, and Boston University.
"It's always an honour to get recognition for our website, which we're very proud of," said Lisa Fisher, director of Communications and Marketing, Langara College. "I think our design embodies Langara's commitment to accessibility, as well as our warm, engaging spirit. It's wonderful to know that our vision for the website resonates so strongly with the design community."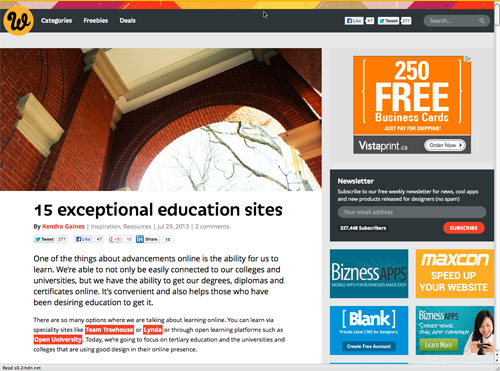 The article, written by designer Kendra Gains, profiled the best of the best in post-secondary websites – those that balance meaningful academic content with solid and aesthetically pleasing designs. The Langara site got rave reviews from the author. 
"I saw this web design and almost lost my mind," wrote Gains. "This is a completely different approach to web design in general, but it absolutely works. There are so many small elements that you could easily look over, but would be missed if they weren't there. This design is exceptional and should be used for inspiration in all web design. I think they know what they're doing up in Canada."
The Langara College site has received accolades previously from design community members such as Communications Arts, The Best Designs, Design Delights, and Design Charts.
About WebdesignerDepot.com
Started in 2010, WebdesignerDepot.com is a worldwide collaboration between leading designers who contribute articles, features, and tutorials to help grow the design community.
About Langara

Located in beautiful Vancouver, BC, Canada, Langara College provides University, Career, and Continuing Studies education to more than 21,000 students annually. With over 1,700 courses and 130 programs offered, Langara's expansive academic breadth and depth allows students of all ages, backgrounds, and life stages to choose their own educational path.
Learn more:
Yvonne Ohara
Manager, Communications and Marketing
Langara College
604.323.5014
yohara@langara.bc.ca