May 8, 2013
Samuel Aranda, winner of the prestigious
World Press Photo of the Year
award, will be speaking at Langara this month as part of the
Photography Masters Series
. 
The acclaimed photojournalist is best known for his work in North Africa and the Middle East, including an image of a woman cradling her wounded son following an outbreak of gunfire during a protest in Sanaa, Yemen. The
iconic photo
, taken for the New York Times in October, 2011, was last year announced as the winning image in the World Press Photo of the Year competition – an accolade that carries a €10,000 prize ($13,000 CDN).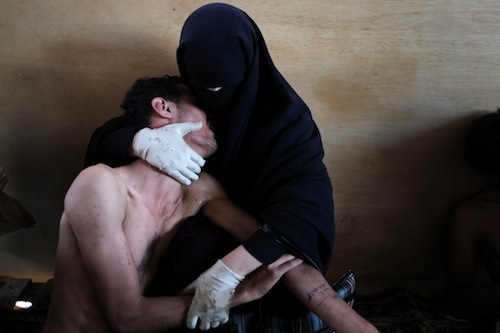 World Press Photo of the Year 2011, New York Times/Samuel Aranda: Fatima al-Qaws cradles her injured son Zayed after a street demonstration in Sanaa, Yemen, on October 15, 2011.

Speaking to the British newspaper The Guardian about the image Aranda said:

"When Fatima heard that protesters had been killed, she went straight to this mosque to see if Zayed was there. This is the moment she found her son alive.
 
"Their pose and the way the light fell made it easy to see the shot. In a matter of seconds, I'd taken five frames. I knew it was a strong image, but I was overwhelmed by the reaction it got."
 
Aranda, whose work has included projects on Uzbekistan's Aral Sea, social issues in India, Kosovo's independence, South Africa before the World Cup, conflict in Columbia, street children in Bucharest, and the Comorra mafia in Naples, will share stories and discuss the motivation for his work and his photographic philosophy.

"For me photography is a political act," said Aranda, who is based in Spain and Tunisia. "It's a way of fighting for what you believe and exposing situations that need attention."

Aranda will be joined by his partner, Vancouver-born photojournalist Lindsay Mackenzie, whose coverage of the revolutions in Tunisia, Egypt, and Yemen has been featured by The Wall Street Journal, the BBC, The Globe and Mail, El Pais, the Washington Post, the Financial Times, and the CBC.

"It's an incredible privilege to be able to 'be there' when history is being made," said Mackenzie, who is also a contributor to the photography blog Everyday Africa. "It's also a big responsibility."

Aranda and Mackenzie will speak at Langara's main campus on May 29th at 7:00 pm as part of the Photography Master's Series. For tickets call 604-323-5322.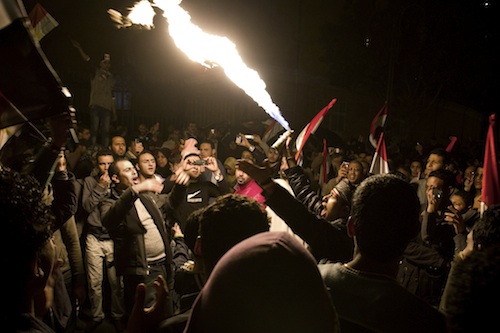 Lindsay Mackenzie: Protesters in Tahrir Square, Cairo, celebrate after Hosni Mubarak announces he is stepping down on February 11, 2011. Shortlisted for a National Picture of the Year award from the NPAC.

Details:
Langara College Main Campus 7:00 pm, May 29, 2013
$20 (students & CAPIC members)
$25 (general public)
Register: 604 323 5322
Learn more:
Annie Mullins
Communications Officer
Langara College
604.323.5058
amullins@langara.bc.ca