Mar 20, 2012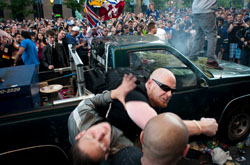 Tijana Martin's photo from the Vancouver riots is nominated for an NPOY Award. Copyright Tijana Martin.
Vancouver, BC – Langara College congratulates alumna Tijana Martin, who has been nominated for a National Picture of the Year Award (NPOY).  
Tijana, who graduated from the Photo-Imaging Program at Langara in 2011, is one of five finalists named in the "Spot News" category in the NPOY nominations. Her "completely unexpected" image, an evocative photo of hockey fan Bert Easterbrook defending a vehicle during the Vancouver riots of June 2011, brilliantly captures the chaos and intensity of a now infamous event.    
"It was completely unexpected," said Tijana. "I went downtown with the intention of taking photos of the fans celebrating and watching the game. I was trying to be where all the action was happening, and Bert was trying to stop someone from putting burning pieces of paper in the truck. When someone insisted on continuing to try to burn the truck, Bert went for the punch, and all I could think was 'SHOOT!'"  
Tijana, an independent photographer, has been nominated alongside Canada's top newspaper and agency photojournalists. The photo itself was never published, but was viewed by more than 15,000 people when it was featured in the "Freshly Pressed" section of blogging website wordpress.com.  
"It's an honour to be nominated," added Tijana. "I look up to all the other photojournalists, and just being nominated is incredible."   The awards are presented by the News Photographers Association of Canada (NPAC). The winners will be announced at the NPOY Awards Ceremony in Ottawa on April 28, at the NPAC Photojournalism conference.
Learn more.
Annie Mullins
Communications Officer
Communications & Marketing Services
T 604 323 5058
amullins@langara.bc.ca